Muqaddar Ka Sikandar (1978)
Directed by
Genre
Powerful melodrama with another great Amitabh performance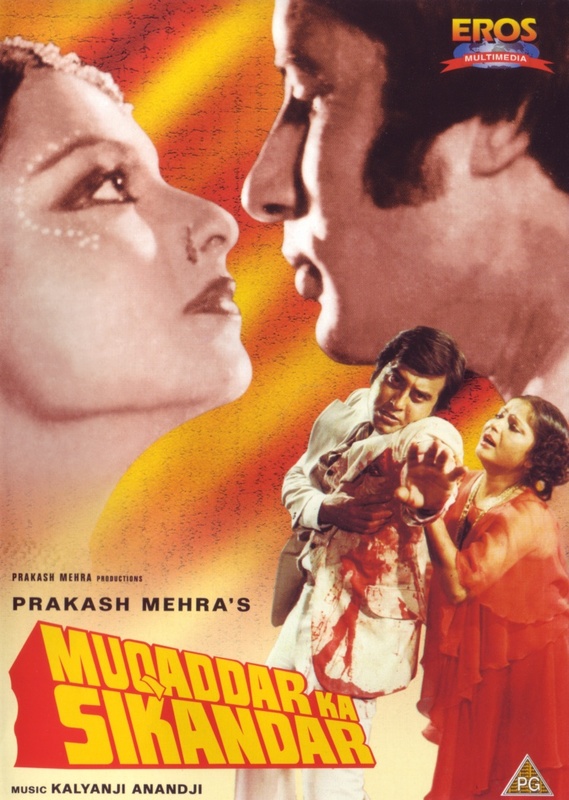 Reviewed
by Simon
on
2003-10-13
A poor little orphan with no name is taken into the house of a rich lawyer, who treats him like a dog... but the lawyer's daughter treats him like a human, a fact that makes him shed a tear with joy. But when the lawyer accuses him of stealing some jewellery he is kicked out of the house, and even the daughter calls him a thief. Moving to Bombay, the orphan is adopted by a poor woman who gives him his name... Sikandar. But tragedy strikes and Sikandar is left to raise his adopted sister alone. 'tis a miserable life.
15 years later, Sikandar has quite turned his fortunes around, and built a little empire, also earning respect from the community because of his integrity. He's also turned into Amitabh Bachchan, which has got to help. But he's still plagued by the memory of that little girl, who to this day believes him to be a thief. He turns to drink to block out the memories (and we all know how well that helps).
One night brings him a chance encounter with a singing prostitute (the very gorgeous but briefly named Rekha) and a righteous but down on his luck law graduate (the charismatic Vinod Khanna), forming deep friendships with both.
The story of Muqaddar Ka Sikandar ("Conqueror Of Destiny") is a wonderfully woven tale of tragedy, love, loss, power, corruption, honour, destiny and despair. All these themes are brought into the mix by the cast of wonderful characters and their interwoven stories, tied together by the story of honourable urchin Sikandar. The tale is rich, complex and full of small wisdoms and strong emotions. Everything about the production is a cut above average, including the script, the songs, the action scenes and especially the performance of Amitabh. He's always a wonder to watch, but Sikandar is surely one of his best roles - in 1973, Prakash Mehra created a character that Amitabh Bachchan turned into one of Indian cinema's classics in Zanjeer. Five years later, director and star reunited to create another classic character (and another tragic hero) in Sikandar. He's a complex character, and Amitabh brings out all his depths whilst embuing him with the usual Amitabh charisma.
The film is pretty heavy on melodrama, and is quite downbeat overall (I even shed a tear towards the end), which means it can't possibly be as much sheer fun as Don or Sholay, for example. It's more powerful though, and just as impressively made. The first 25 minutes are pretty shaky, with melodrama turned up way too high and some terrible acting, but once Amitabh turns up everything is alright and the film never sags from that point on (total running time is about 185 minutes).