Merantau (2009)
Directed by
Genre
Not as good as ONG BAK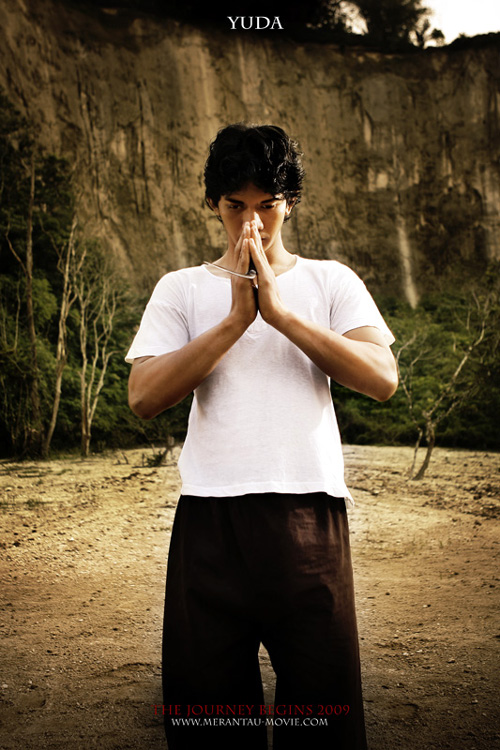 Reviewed by Simon on
2012-10-16
A young village boy travels to Jakarta to perform his Merantau, a rite of passage where he must prove himself and become a man. He hopes to earn a living teaching the martial art of Silat, but on the bus journey down an older man warns him that this will not be sufficient, and he will have to find another source of income. He quickly finds that Jakarta is not like the village, but is instead full of vice and crime. A chance encounter with a young pickpocket and his gogo dancer sister brings him into conflict with a group of local gangsters, with inevitable results.
The plot to Merantau is reminiscent of that of Thailand's Ong Bak, and it is clear that the aim was to produce a similar film, exploiting the talents of local martial artist Iko Uwais in the hopes of producing Indonesia's own version of Tony Jaa. The film starts off pleasantly enough, but what we're waiting for is of course the action. It's not long before young Yuda gets involved in a chase, and our anticipation builds for a showcase of the kind of athletics and stunts that first impressed us in ONG BAK... but we are to be disappointed. After running down a few narrow alleyways the chase is over, our jaws remain undropped.
A short while later Yuda gets involved in a fight with some gangsters... again anticipation builds as we expect him to unleash a storm of fury... and again we are disappointed, as he soon ends up bruised and bloodied on the floor.
"Just kidding", the film says, as Iko Uwais picks himself up and the music builds dramatically, as he heads into a gogo bar for round two. Things finally kick off, as Yuda pounds his opponents with fast, hard Silat techniques... but it's all over much too quickly.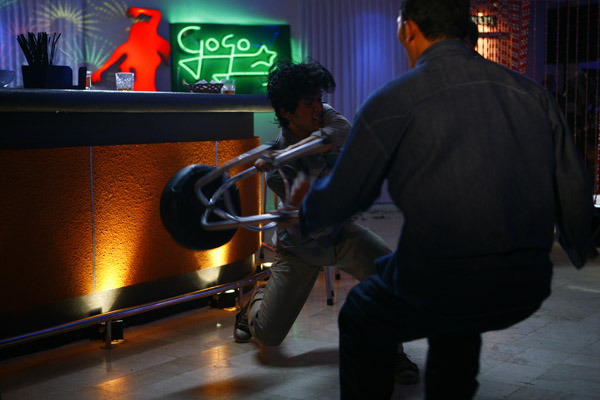 Hmmm, is it possible that we were mistaken? That Gareth Huw Evans has not seen ONG BAK or is not hoping to produce a similarly impressive showcase for Indonesia's native martial arts styles? I don't think we are, but in MERANTAU he seems rather more focussed on developing the story than is appropriate - could he be under the delusion that it actually matters? Or that it is even remotely original? Hard to imagine.
Smatterings of action break out fairly regularly from this point in the film, but it's not until past the one hour mark that the film really lets loose, and we really get what we came for - the last twenty or thirty minutes are almost unbroken action, with a series of fights giving Iko Uwais a chance to show off his skills in Silat - and might impressive they are. The fights are fast, technically sophisticated and full-contact. Things build in intensity until a climactic boss fight that goes on for a long time, and delivers the martial arts junkie adrenalin kicks that any sensible person was presumably seeking when they bought the film.
So, those looking for Indonesia's answer to ONG BAK won't walk away from MERANTAU disappointed, but neither will they walk away with their jaws dropped and their legs wobbling. There are some great fights and stunts, but not the same quantity or quality as those in ONG BAK (we are at least spared the double take editing though). MERANTAU also lacks ONG BAK's playful humour, the tongue-in-cheek acknowledgement that the videogame-like narrative is really just an excuse that ties the action scenes together.
Still, as a first step into the world of martial arts films for the director and star alike, it is by no means a poor effort - and if it brought them the funding and self confidence to make the altogether more wonderful The Raid: Redemption a year or two later, nobody could possibly argue that its existence is a bad thing.
Special mention must go to the westerners in the film... after decades of suffering truly appalling performances from caucasians in Asian movies it's refreshing to see a couple of white faces who are really good in their roles. I suppose that having a director who speaks the same language and can tell whether you're acting really badly in it or not helps :-)
See also
External Links