Live Flesh (1997)
Directed by
9/10 - Rich, sophisticated and mature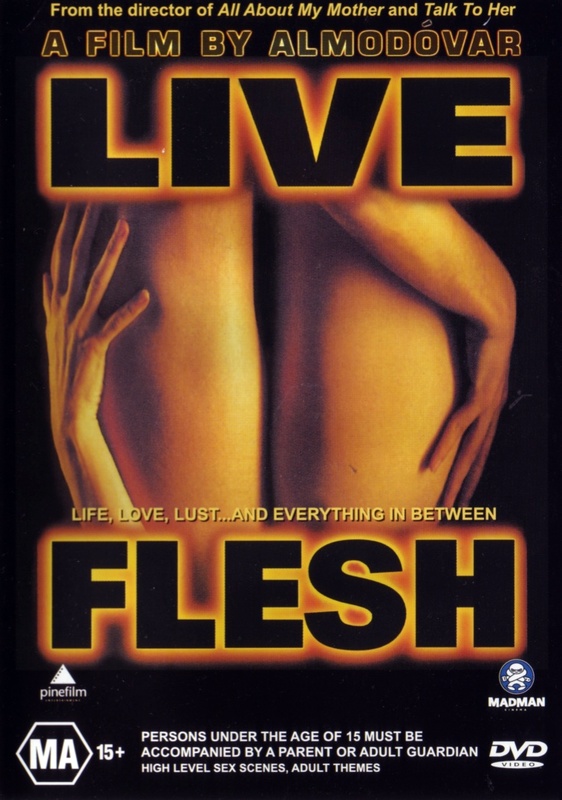 Reviewed by Simon on
2012-12-03
Victor is born on a bus on a winter's day in Madrid in 1970, when the country was under the oppressive rule of General Franco. 20 years later a chance encounter with a junkie in a club toilet leaves an indelible impression on him, but when he seeks her out for a follow-up things turn ugly, the police are called, and a stray bullet leaves an officer paralysed and Victor in prison.
Whilst there, Victor learns that the paralysed officer married the junkie and is now a famous wheelchair basketball player, whilst she has kicked the junk and is a devoted and beautiful wife. He broods with resentment about what he perceives to have been taken from him, but focusses on study and exercise programs to expediate his release... whilst formulating a plan for revenge.
Upon his release he chances upon the couple at the cemetery when visiting his mother's grave, and ingratiates himself with the wife of the cop's partner. Things turn out to be rather more complicated in the real world than he had imagined them from his prison cell, though.
LIVE FLESH begins and ends with a birth, and in between there is a little bit of death and a lot of life - in all its complicated, messy beauty. It marked something of a change of style for Pedro Almodovar - the beginning of a more mature period as a film-maker, after the anarchic black comedies with which he made his name. This development is perhaps mirrored in Victor's story, as his experiences in prison and upon his release produce a far more mature young man than we see at the start of the film.
The steamy title and cover art, and the association with pulp fiction author Ruth Rendell, all fail to prepare the viewer for what was at the time certainly Almodovar's most sophisticated work. This is no simple revenge film, but rather a complex, multidimensional examination of life and relationships. The web of connections between the five main characters becomes increasingly more tangled and messy as the film progresses, but is handled with finesse and intelligence by Almodovar, always an astute observer of the human race. Events rarely develop according to cliche, and characters rarely succumb to stereotype.
The rich, complex characters that Almodovar creates require great performances from the cast, and all of the principles deliver. Javier Bardem is spot on as the wheelchair bound former cop, not consumed by bitterness as you might expect, but finding great joy in applying himself to his sporting career, and utterly devoted to his wife. Francesca Neri is just as perfect as Elena, transformed by events from messed up junkie to philanthropist, and young Liberto Rabal is no less convincing and compelling in the film's most multifaceted role.
Events and characters are far less outrageous than in many of Almodovar's earlier films, and the comedy is scaled right back (though there are a few moments of comic brilliance, but more in the directorial flourishes than the script itself).
When I first saw it I was certainly surprised by LIVE FLESH, as it wasn't what I was expecting (or looking for) in an Almodovar film. I guess it's taken me most of 15 years to get around to watching it again, with the interim experience of films like ALL ABOUT MY MOTHER and VOLVER getting me used to a much less camp and outrageous Almodovar experience than I was expecting on first viewing. In the context of his subsequent films, the brilliant craftmanship of LIVE FLESH is much easier to appreciate. It's an altogether more cerebral but perhaps no less challenging film than What Have I Done To Deserve This? or any of his more punk rocky films made as a younger man.
Almodovar's maturation as a film-maker is apparent in the technicalities of the film, too, with truly expert direction encompassing some masterful cinematography and editing. Camera work is never intrusive, but every shot is perfectly chosen. The soundtrack is brilliantly selected and deployed - key scenes are often dominated by melodramatic Spanish flamenco tunes, mostly to comedic or ironic effect, whilst at other times the orchestral score is a lush complement to the visuals. A basketball rehearsal session features a surprising but very welcome appearance from Afro-Celt Sound System.
LIVE FLESH may have been a curveball in Almodovar's filmography, or in retrospect a signpost of things to come. Either way it provides further evidence of Almodovar's rare genius.
Crew
| | |
| --- | --- |
| Director | |
| Writer | |
| Cinematographer | |
See also
External Links