A Better Tomorrow (1986)
Directed by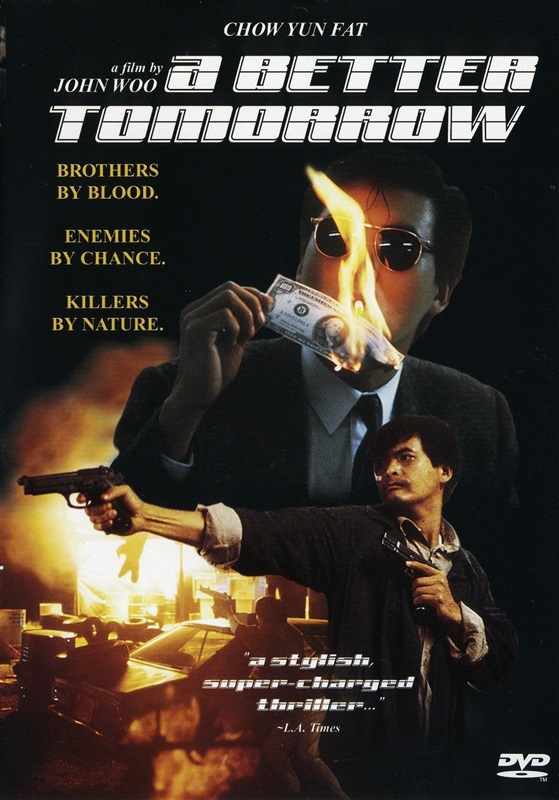 Reviewed
by Simon
on
2010-11-04
I haven't watched any HK films for a couple of years, really, but decided to revisit some recently. Not many live up to my memory of them, but A BETTER TOMORROW actually exceeds it. It's not by mistake that it's regarded as one of the classic films from Hong Kong, or that it spawned an entire genre of imitators. The characters are some of the best and most memorable, and the performances from the cast superb. Even Waise Lee doesn't suck in this one.
It definitely marks a change of style for John Woo, after a string of comedies brought him box office disasters. Clearly influenced by the male bonding and heroic sacrifices for loyalty that were a staple of the martial arts films by his mentor Chang Cheh, and indeed the bloodshed and violence, but updated for a world where swords have given way to guns.
Comedy had ruled the Hong Kong box office for a long time in 1986, and it's fortunate that Woo and producer Tsui Hark did not succumb to the temptation to include some here... the film is played totally straight, and would not have worked any other way.
Chow Yun-Fat's character Mark is iconic, his cool style backed up by fierce passion and intensity has been often imitated ever since. Whenever a hero goes into battle brandishing dual pistols, you can't help thinking of Mark-Gor.
Technically the film is of a very high standard, certainly compared to its peers, and though it can't help but look a little dated after 25 years, it still stands up well and deserves to be seen by anybody with a passing interest in Asian cinema.
Crew
| | |
| --- | --- |
| Director | |
| Action Director | |
| Production Company | |
| Writer | |
| Producer | |
| Cinematographer | |
| Assistant Director | |
See also
External Links