Labyrinth Of Passion (1982)
Directed by
A celebration of youth and freedom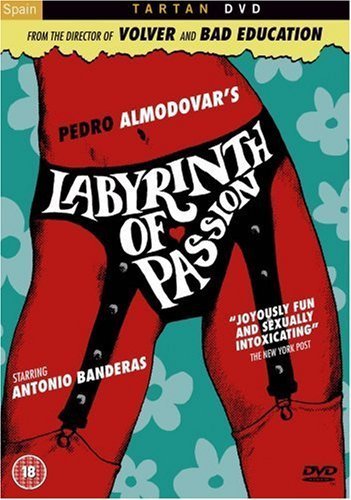 Reviewed by Simon on
2013-05-18
Sexilia (Cecilia Roth) is a singer in a pop-punk band, the daughter of a world renowned artificial insemination expert and a nymphomaniac. Riza (Imanol Arias) is the son of the exiled emperor of an Islamic country called 'Tiran', who is hiding out in Madrid cruising the streets for homosexual lovers. Sadec (Antonio Banderas) is a young man from Tiran, whose compatriots have a plan to restore honour to their country (or something) via kidnap, and who has a freakishly powerful sense of smell.
Yes, it's early Pedro Almodovar, an anarchic blend of sex, drugs and rock n' roll that is as gleefully absurd as it is transgressive. The plot of the film is labyrinthine indeed, becoming increasingly more farcical as it meanders towards a climax that would make even the writers of trashy soap operas like SUNSET BEACH blush with shame. It's less about the story and more about the culture though - like PEPI, LUCI, BOM, the characters in the Madrid of LABERINTO are determined to explore the new freedoms of post-Franco Spain, and Almodovar is determined to break taboos and channel some of the punk rock ethos of the time into cinema.
LABYRINTH OF PASSION also turns out to be another Pedro Almodovar film I have never seen before! I don't know how though, as I owned it on VHS until very recently, which means it must have sat unwatched for at least 13 years (to be fair, I didn't own a VHS player for about 12 of them). Anyway, I now own it on DVD, which almost certainly looks no better than the VHS would have done, but at least takes up less space.
Whilst Pedro Almodovar has probably evolved into a better film-maker over the years, as his focus has shifted from absurdist melodramas to finely crafted character-driven stories, there is something about the creativity, energy and unabashed deviance of his early films that I do find very attractive. Whilst this film is clearly the work of a less mature writer and a less sophisticated director or visual stylist than films such as VOLVER, it still shows an abundance of talent. It clearly aims to shock, but it does so with a grin on its face (or a very camp pout, more likely), and is more impish than offensive. There are some classic lines and delightful moments... there are some quite dark themes, but the characters shake them off through sheer ebullience and passion - for life, and for freedom.
LABYRINTH OF PASSION is a film of unlikely coincidences and outrageous fashions - a celebration of life, but especially of being young, free and fluidly single. It's a film about the liberating power of sex, music and art - and another unique work from one of cinema's greatest masters.
Notes
External Links