Stoker (2013)
Directed by
8/10 - Creepy family horror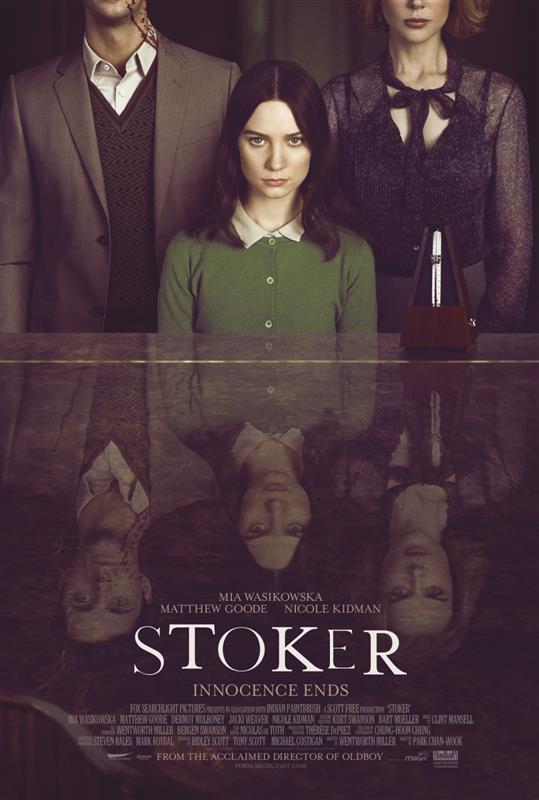 Reviewed by Simon on
2013-10-06
After India Stoker's father dies on her 18th birthday, his younger brother comes to stay with the family. India never even knew she had an uncle, and does not greatly appreciate the closeness that he seems to enjoy with her mother (which India herself has never had), especially as it quickly becomes apparent that Uncle Charlie has something to hide.
STOKER is Park Chan-Wook's first English language film, which naturally was a source of anxiety... there is not a rich history of brilliant Asian auteurs successfully making the transition to Hollywood... in fact I am struggling to think of a single example where their English language work lived up to the films in their native countries that got them studio interest in the first place. It is therefore a relief that STOKER is almost an exception - whilst not as striking and remarkable as OLDBOY or THIRST, STOKER is by no means a travesty, and whilst it doesn't exactly scream "This is a Park Chan-Wook film!" it does have a vibe that is close to some other Korean films such as A Tale Of Two Sisters.
The cinematography and the setting are suitably Gothic and creepy, and the performances suitably understated and chilling. Whilst the film does not have the shock factor of Sympathy For Mr. Vengeance, it has not been too badly Hollywoodised, and contains some scenes that will certainly leave an impression. There are a few scenes that don't work - any involving the 'jocks' at India's school - but in general the fact that the director and cast did not share a first language is much less apparent than it sometimes is. I have no idea how good Park's English is, maybe he is sufficiently fluent to be able to communicate his vision to the cast without too much getting lost in translation.
The film is something of a slow burner, with the first half being quite sedate - events start to unfold a lot more rapidly in the second half.
Whilst STOKER is unlikely to create the same sort of waves that Park's so-called "Revenge Trilogy" produced, it is certainly not something that his fans will find themselves apologising for when their subtitle-phobic acquaintances mention it, and the fact it is in English should see it reach a wider global audience. It might even convince some otherwise unlikely people to take a chance on his Korean work, and that can be no bad thing.
External Links