The Magnificent Butcher (1979)
Directed by
8/10 - Kung fu spectacular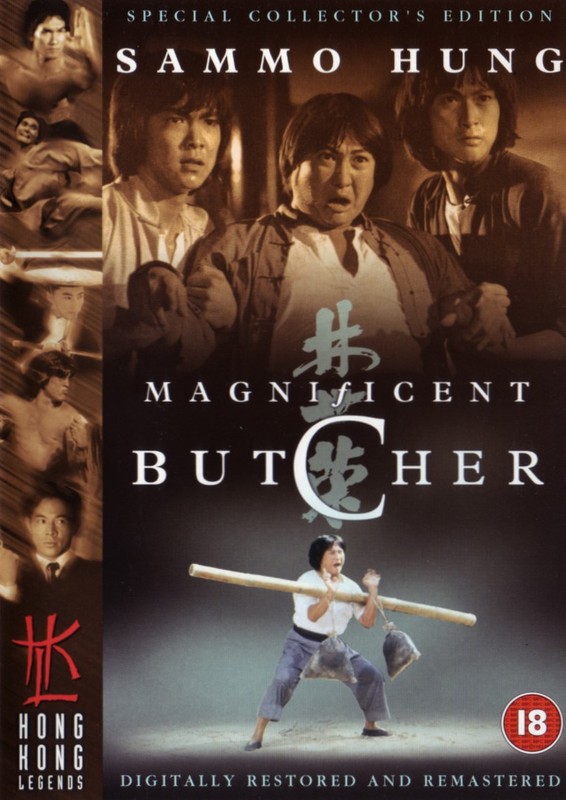 Reviewed by Simon on
2013-10-26
Lam Sai-Kwong arrives in town with his new wife, looking for his older brother Butcher Wing - but has has the misfortune to run into the villainous thug Ko Tai-Hoi instead. Ko takes a liking to Lam's wife, and kidnaps her - then exploits the hot-headed Wing's naivety and martial arts skills to use him against his own younger brother. A wily drunk vagrant is passing through town at the same time and soon recognises who is virtuous and who is vicious, and decides to help the student of his old friend Wong Fei-Hung.
THE MAGNIFICENT BUTCHER was a major project for the Golden Harvest studio, bringing together some of the greatest talent on their books at the time - most notably Sammo Hung and Yuen Wo-Ping, both of whom had recently transitioned from action directors to the big chair, and were largely responsible for creating the new style of comedy martial arts films that helped Golden Harvest topple the Shaw Brothers from their position as Hong Kong's premiere film makers. It was one of very few times that the two collaborated.
Golden Harvest invested plenty of time and money into the film, assured that with the talent involved they would be left with a big hit, and whilst THE MAGNIFICENT BUTCHER isn't quite as widely known or highly regarded as some other films of the era there is no doubt that it is a classic martial arts film, with a great number of superbly choreographed and executed fight scenes.
The film follows a similar template to Drunken Master, with a decent story but - not surprisingly for the genre - some gigantic plot holes. I suspect that the basic structure of the story was all that was worked out in advance, basically enough to determine who would get to fight who, and the rest of the detail was probably improvised in the lulls between shooting the fights. There are quite a few comedic skits along the way, which can be a bit hit or miss - Sammo liked to play the fool, despite clearly being an extremely shrewd man in real life, so the humour tends towards broad slapstick.
It's really the fights that define the film though, and they are consistently of the highest quality - starting with Kwan Tak-Hing's calligraphy battle with Lee Hoi-Sang, the film constantly innovates in both choreography and cinematography, creating faster, more fluid and more acrobatic fights with each scene - a clear sign of the revolution in martial arts cinema that Sammo and Wo-Ping were leading. A particular highlight is the spectacular battle between Yuen Biao and Lam Ching-Ying, both young men at the time and at the peak of their remarkable abilities.
Crew
| | |
| --- | --- |
| Director | |
| Action Director | |
| Production Company | |
| Writer | |
| Assistant Director | |
Notes
See also
External Links