Hum Dil De Chuke Sanam (1999)
Directed by
Beautiful but too conservative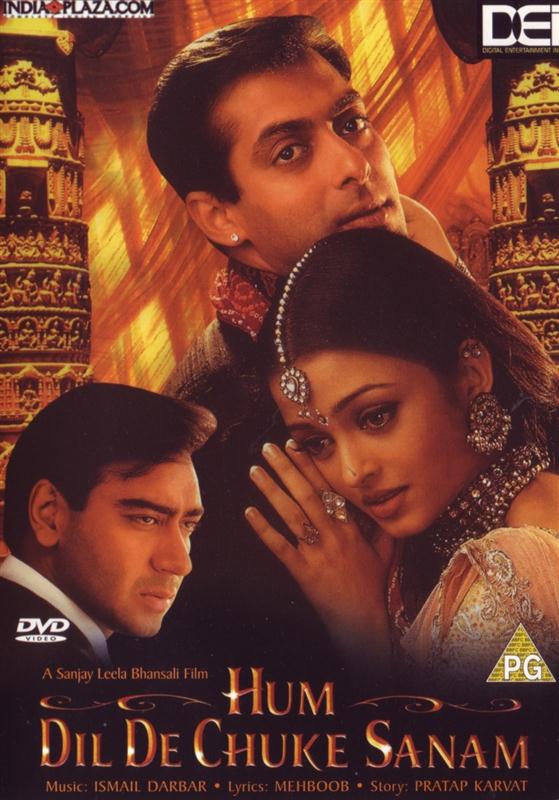 Reviewed
by Simon
on
2003-04-29
A young musician (Salman Khan) travels from Italy to India to learn music from a master singer. He strikes a discord with the musician's daughter (Aishwarya Rai) even before he arrives, which is of course a natural precursor to falling in love. Unfortunately, the ultra-conservative family do not take kindly to the young lovers relationship, as they'd much rather their daughter married a nice lawyer like Ajay Devgan.
Star crossed lovers have been the meat and bones of Bollywood for a good many years now, so the first half of HDDCS at least plays out without many surprises. It's a fairly lightweight romance that spends more time on songs and dances than dialogue. The dance routines are beautifully choreographed, and the whole production looks luscious and expensive with its grandiose sets and costumes. The romance itself is only mildly engaging, as both characters tend to act like brats most of the time, and it's hard to really feel any enthusiasm for their cause.
Unsurprisingly, the intermission marks the turn-around point, where the situation gets more complicated and the fluffy romance has to make way for melodrama and contemplation of more serious issues. This does make the second half more interesting than the first.
HDDCS looks gorgeous. Director Sanjay Leela Bhansali would go on to make DEVDAS more recently, famed for being the most expensive Hindi production ever, and almost gratuitous in the opulence of the art design. HDDCS is a little less extravagant, but still full of images of luxury and privilege. The desert mansion in which most of the film takes place is stunning, and the cinematography makes good use of it. Aishwarya Rai is dressed and made up quite beautifully, though she would probably look stunning under any circumstances. She is also a great dancer, and gets plenty of chance to show it in the film. Salman Khan is okay as the passionate Sameer, but sometimes seems to rely on taking his shirt off over acting well, and can be rather annoying at times. Ajay Devgan is superb, though his role is smaller.
HDDCS is perhaps the most song-intensive Bollywood film I've seen, with the first half especially being practically 50% songs. The music by Ismail Darbar is pretty good, but he's certainly not A.R. Rahman, and few of the songs are really catchy or memorable. I doubt I'll buy the soundtrack for this one. The choreography is of course superb - India is to dance as Hong Kong is (was) to action - unsurpassed.
Ultimately I was disappointed with HDDCS on two fronts. First is that Salman Khan & Aishwarya Rai's characters just aren't likeable enough to really care about them in the first half of the movie. Second and biggest is the conservatism running throughout the film. Although I think it tries to present a balanced perspective, ultimately it seems to promote very traditional and repressive values, and at times comes across like a religious lesson. This doesn't make it bad for everybody, but it's not something I like in a film. Thus, although I can appreciate the films aesthetics it did not work on an intellectual level for me.
Notes
aka Straight To The Heart