Shahenshah (1988)
Directed by
Genre
By the books actioner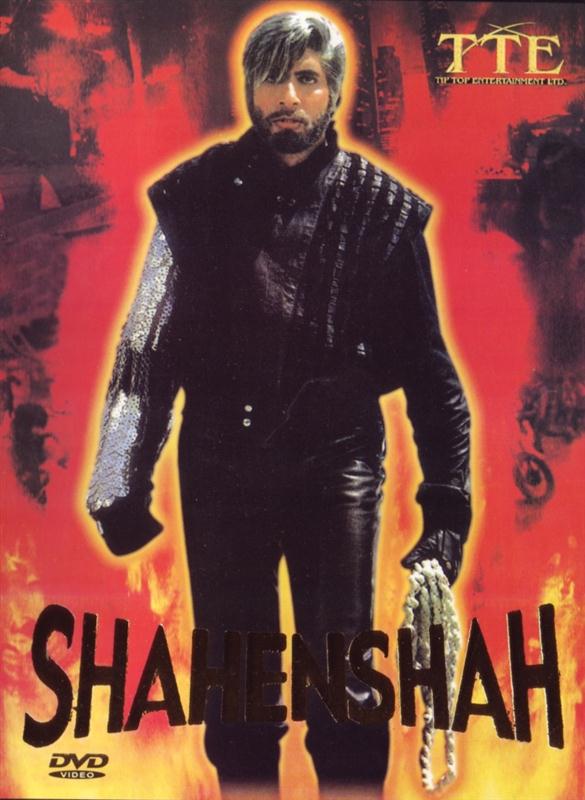 Reviewed by Simon on
2003-03-16
Sundays is quite often Amitabh Bachchan day for me these days. It's the only time in the week I can find 3 hours to sit down and watch a Bollywood movie, and my Indian star of choice is definitely Amitabh.
A righteous police officer is framed by the villains he is investigating, and in shame he hangs himself. His son grows up to be a policeman too, but rather unexpectedly he turns out to be something of a coward and a simpleton who takes bribes. At least - that's what he wants you to believe! For by night he adopts a different persona - the one man crime fighting machine, SHAHENSHAH! Endowed with unstoppable power (for reasons never explored) and quite the worst outfit in movie history, Shahenshah is judge, jury and executioner for the criminals the law can't touch.
Amitabh Bachchan gets to play something of a dual role again, reprising the betel-chewing simpleton character and the tough hero characters he's played plenty of times before. It's a good chance to show his range as an actor, but by 1987 there is no question that he was past his prime (and optimum weight) for the angry young man sort of role that made him popular (yet of course still not matured enough for the cool sophisticat Bachchan of today). SHAHENSHAH doesn't ask much of the veteran actor, and certainly can't be considered one of his best roles.
The plot for the movie is rather full of holes, but basically addresses a theme that I find to be exceedingly common in Indian cinema - the failure of the police and politicians to protect the citizens of the country. If Bollywood cinema is to be believed, corruption must be a significant problem, and there is a clear wish for a 'strong hero' that will fight on the side of the poor and the innocent. Preferably quite violently
SHAHENSHAH has a fairly stock villain character, played by Amrish Puri in what may be his 1,000,000th villain role - a role he could do in his sleep with his face. He gets up to the usual sorts of crimes - drugs, murder, bribery and trying to force poor people off their land. Oh, and he is the man responsible for dad's death, naturally. There's also a love interest, played both sassily and sexily by Meenakshi Sheshadri, who thankfully gets a lot more to do than just dance and look pretty in a good role. Mix in patriotic mothers, virginal sisters and noble reporters and you get an idea of what to expect.
There's not a lot of depth or subtlety to the plot, and I'm not sure quite how it gets stretched out to fill 185 minutes. There's quite a few lengthy songs of course, and quite a few action scenes of the "Amitabh waves a fist and 5 guys somersault away in slow motion" type, but few fresh or exceedingly interesting ideas.
The movie definitely looks stuck in the 80's, and unfortunately by the latter half of that decade Amitabh Bachchan's star was definitely fading. SHAHENSHAH is a far cry from such great movies as Don and Sholay. It manages to be moderately entertaining, as any movie containing such a basic mix of ingredients will be, but I can't imagine it getting a second watch any time.
Cast