Eega (2012)
Directed by
You messed with the wrong Muscidae, bitch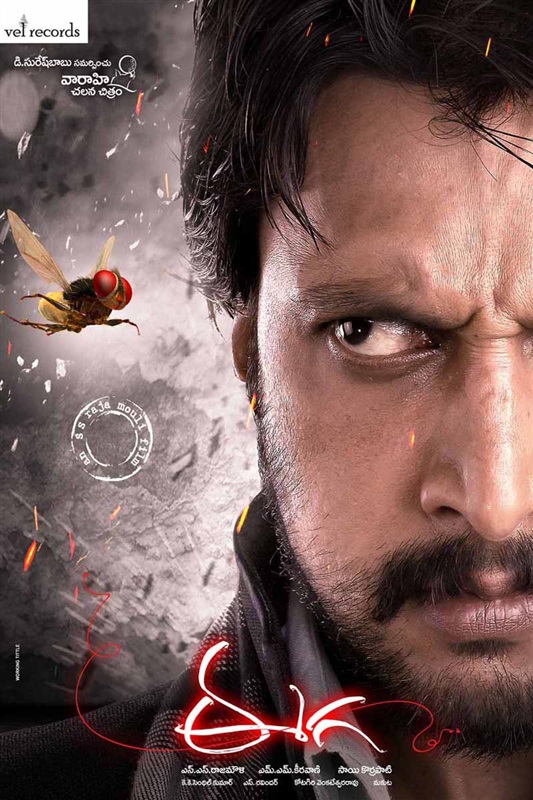 Reviewed
by Simon
on
2021-12-05
Mani has been courting his neighbour Bindu for 2 years, and is on the cusp of success when a rich and unscrupulous property developer takes a shine to her. Accustomed to getting whoever he wants, Sudeep does not take it well when he realises that Bindu's heart is already taken. He abducts Mani and kills him.
Luckily Mani is reincarnated almost immediately... as a house fly. Realising that Sudeep plans to exploit Bindu's morning to trick his way into her life, he resolves to save her - and have his revenge. But what can a fly really do against a powerful, resourceful human?
EEGA is a ridiculous film - it's a ridiculous idea that is realised in a ridiculous way, and it is brilliant. It never takes itself seriously but it doesn't skimp on the production values - it's slick and polished, with some fantastic "fly cam" sequences and great animation for the heroic fly. The script is witty and creative, with the many ways a sufficiently determined fly can wreak havoc on someone's life providing a steady stream of giggles and the odd guffaw.
Things escalate preposterously to an explosive action climax, featuring some remarkably choreographed sequences and an impressive level of destruction, given that one of the combatants is a fucking house fly.
Hats off to S.S. Rajamouli for having such a mad idea and committing to it so completely.
Crew
| | |
| --- | --- |
| Director | |
| Writer | |
| Editor | |
| Cinematographer | |
| Soundtrack | |
External Links