Mrs K (2017)
Directed by
Kara Hui has still got it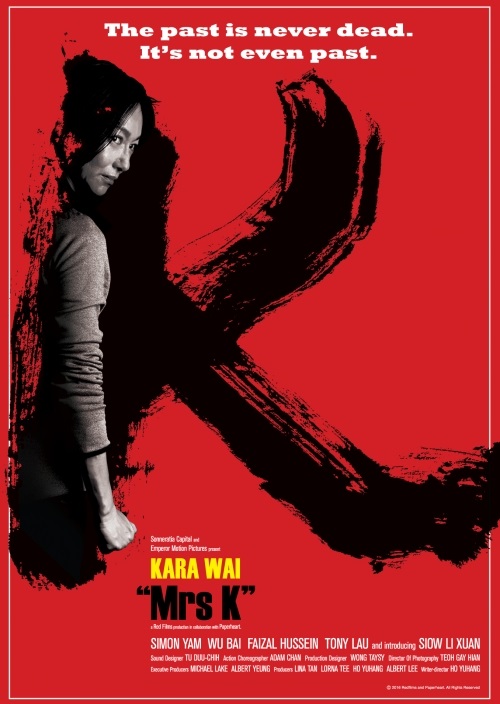 Reviewed
by Simon
on
2022-04-30
Mrs. K is a woman with a past, one that catches up with her many years later in the form of ex-partner Simon Yam, who tracks her down and abducts her daughter in a quest for revenge.
MRS K was apparently custom-written for Kara Hui after seeing her in Wu Xia, still going strong at 50 - as she was at 55 when this film was made. It's obviously a low budget production, filmed in Malaysia by a Hong Kong crew that doesn't feature many familiar names behind the camera. It manages to feel more like a Hong Kong film than the output of most of the big names has in a long time though.
The plot is straightforward, it's basically just a space for the characters to breathe in. Kara Hui and Simon Yam render their characters believable, and newcomer Siow Li-Xuan brings the daughter to life well. Faizal Hussein is deeply menacing as Yam's silent accomplice. Wu Bai is the one cast member that seems a little out of place in his role.
The film doesn't have the outrageous stunt work of golden era Hong Kong, it's clear that neither the budget nor the infrastructure is there to make that happen anymore. It does build towards an action finale that proves that Kara Hui has still got it though, with Germaine Yeap making a worthy opponent - Kara doesn't have the younger fighter's strength, but she does have experience and determination.
These kind of small scale productions are the closest thing to a local industry that remains in Hong Kong, made without involvement from the mainland or an eye on its audiences. It can't possibly stand up to the films of the 1970's to 90's, when tiny Hong Kong punched so far above its weight cinematically, but it works as reminder that Hong Kong cinema is neither gone nor forgotten just yet.
Crew
| | |
| --- | --- |
| Director | |
| Action Director | |
| Writer | |
| Producer | |
| Assistant Director | |
| Cinematographer | |
| Art Director | |
| Soundtrack | |
See also
External Links