Double Vision (2002)
Directed by
Above average horror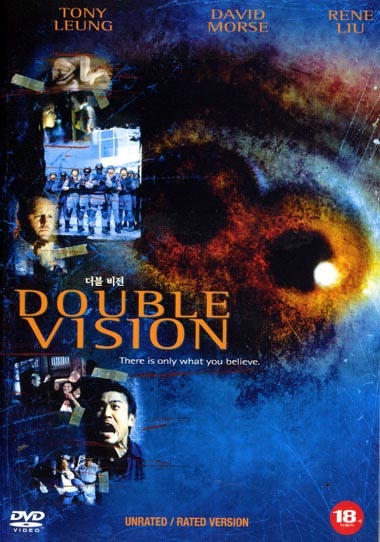 Reviewed by Simon on
2003-04-28
Double Vision is a horror movie from Taiwan that may be "The Next Big Thing" amongst Asian film lovers. It stars Tony Leung Ka-Fai as an intense, troubled Taiwanese detective and David Morse as an FBI agent sent to assist the Taiwanese cops in the investigation of a serial killer (since America produces more of those than any other country, the FBI are considered to be the world's experts).
It doesn't take much to discover that there's something very strange about the killings. The first victim is a business man, found frozen to death in his office on a hot day when the air conditioning was off. The second, a politician's wife is found burnt to death in her home - which shows no signs of fire damage.
The Taiwanese cops are convinced the case is simply insolvable, as it is clearly the work of devils or demons. David Morse, sceptic that he is, is quite convinced the deaths are the work of human hands.
Playing out rather like a multinational episode of the x-files, the film is infused with Taiwanese Taoism and the notion that there is more to the world than the ordinary human eye can see. Well, what good horror movie isn't?
Tony Leung gives a fantastic performance as the intense, haunted cop, and David Morse fares better than most Western actors do in Asian productions. The film is very slick, with high production values and great cinematography (from Hong Kong legend Arthur Wong). It doesn't all make a lot of sense, if you try to think about it too much, but that's just an aspect of horror movies I guess I will get used to one day. Scares are not constant, but are effective.
The script mixes together a large number of elements, and in particular contains far more political content than usually makes it into horror movies. Although clearly made with the international market in mind, it is very much focused on Taiwanese culture and history.
Although the film tries to be smart, and perhaps by horror standards is, the presence of several lapses of logic frustrated me quite a bit. I never seem to get it, but I always wish a horror movie would actually make logical sense. I guess this is usually compromised for "I didn't see that coming" type scares and twists, and so it is in DOUBLE VISION. This is the primary reason why I'm not a horror movie fan, and was never going to *love* DV. For those that enjoyed THE RING and its ilk, I'm sure DOUBLE VISION will be perfectly satisfying. It's certainly a glossy production that attempts to cover a lot of ground, sometimes with success.
External Links