Fearless Hyena (1979)
Directed by
Genre
One of Jackie's best martial arts performances
Reviewed
by Simon
on
2001-09-26
FEARLESS HYENA clearly wanted to capitalise on the success of DRUNKEN MASTER, and there is much in the training and fight sequences that recalls it. The plot ("He must fight one master and avenge the death of his own") is obviously reminiscent of every old school kung fu movie ever, but it's quite well realised here. Chan is the lazy grandson of a kung fu master who has been sworn never to practise his kung fu in front of others. Contrary to this, he ends up teaching in a school in the town, which draws the attention of bad guy extraordinaire Yen Shi-Kwan (my personal hero), who has been on the trail of his father's clan for some time. Led to his grandfather, Yen Shi-Kwan gives Chan cause for vengeance in the usual manner, upon which Chan must learn his clan's real skills from a crippled master called The Unicorn.
Much of the film is training and fighting, the plot being rather perfunctory. Chan seems to have been out to really prove himself in his first directorial role, and goes *all* out in both. The physical feats he performs are jaw-dropping, and the choreography some of the best I've ever seen. Incredibly long takes as Chan throws himself all over the screen in clever, intricate sequences and an endless array of fantastic moves. This is Chan doing pure kung fu at his very best, and my colleague and I were gasping at his performance throughout.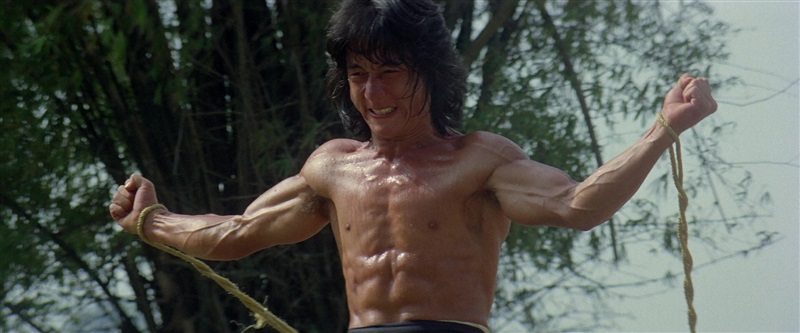 I don't know why the film is so rarely mentioned when Chan's work is discussed, as it stands perfectly well with other work from the period, and outside of Drunken Master II it might contain his best martial arts performance.
Crew
| | |
| --- | --- |
| Director | |
| Action Director | |
| Writer | |
| Producer | |
| Assistant Director | |
| Cinematographer | |
| Editor | |
| Soundtrack | |
External Links