Call of Heroes (2016)
Directed by
Justice only exists if it is maintained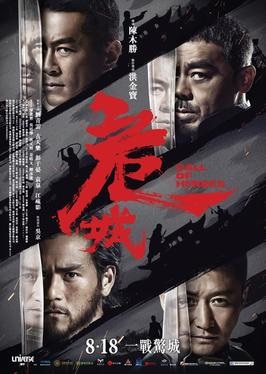 Reviewed by Simon on
2020-08-24
In the chaos of the early years of the 20th Century warlords ravage the land, and the most feared of these is Cao Yung. When Cao Yung's son walks into the town of Pucheng one morning and shoots three people dead, the town sheriff sentences him to be executed in the morning.
Cao's men soon arrive and demand their commander's release, but the sheriff refuses to surrender a murderer without punishment. The army chief tells the town that they must hand him over by tomorrow or they will all be put to death.
The townsfolk plead with the sheriff to let the murderer go, but the Young Cao agrees that a murderer should be punished and refuses to allow his own release unless the sheriff is the one to set him free.
I watched CALL OF HEROES to honour the passing of its director Benny Chan, who died of cancer yesterday at the age of 58. It had been on my list for a while, having come in 40th place on the top 75 Hong Kong films of the 2010's poll run by LoveHKFilm.com, and being described as something of a throwback to the martial arts films of Hong Kong's past.
Benny Chan may not have been a great director but he could usually be relied on to produce something professional looking with some spectacular action set pieces, and that's a pretty good description of CALL OF HEROES. There's not one iota of depth or subtlety to be found in it, and sometimes it's pretty cringe-worthy, but it does have some pretty spectacular martial arts battles (choreographed by the legend that is Sammo Hung) and some interesting performances.
Lau Ching-Wan is somebody you can always rely on for a good performance, but not somebody you would normally turn to when you're casting a martial arts master, and his casting here does seem odd. His acting is fine, though not one of his best performances, but he isn't really able to make the fight scenes convincing. The sheriff is just too straight-laced for Lau to give him much depth or nuance.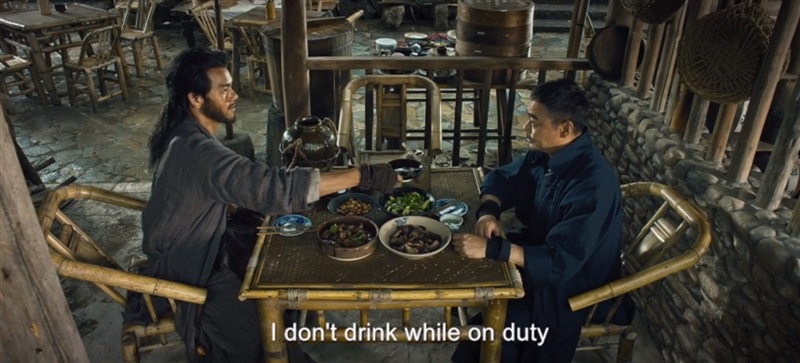 Eddie Peng is arguably the real star of the film, playing a wandering martial artist who doesn't want to get involved in the town's strife but is compelled by respect for the sheriff's strong principles to do something. His quirky and charismatic character is an excellent foil to Lau Ching-Wan's uptight sheriff. He also does great work in the fight scenes, and there aren't too many people who can go toe to toe with Wu Jing and come off looking good. I will have to watch his Wong Fei-Hung film at some point despite it's awful title (RISE OF THE LEGEND).
Speaking of Wu Jing, somebody must have been specifically instructed to find the person who sounds least like him to dub his part on the Cantonese track. I suspect Mandarin might be the better language for this film but Amazon only offers Cantonese - at least you get Lau Ching-Wan doing his own voice.
The real star of the film might actually be Louis Koo, who plays against type as the psychotic commander Cao, who really enjoys using the threat of his father's name (not to mention his own army) to literally get away with murder. He's the most interesting character of the film, and Koo is perhaps just the right person to play a charming, charismatic but ruthlessly evil villain. He reminds me of Pagan Min from Far Cry 4, who is similarly open about just really finding it entertaining to be a brutal bastard, because he can.
It would be remiss of me not to mention Yolanda Yuan as well, playing the sheriff's wife. She doesn't have a lot to do but she does it well, including looking convincing in the fight scenes. It might have been interesting to put more of the focus on her character and have her be the real martial arts master in the family.
CALL OF HEROES isn't quite the throwback to Hong Kong's golden age that some people have claimed it to be. It clearly had too high a budget for a start - Hong Kong's low budgets and small crews forced film makers to be creative, whereas a large budget and crew tends to introduce logistical constraints and reduce the opportunities to improvise on set.
The budget evidently wasn't quite high enough to pay for top tier special effects, with some green screen work being particularly conspicuous in a couple of places. Oddly they don't seem like places where green screen was really needed, so they were probably pick up shots done in an afternoon in a studio somewhere.
I oscillated between wanting to give the film a 6 or a 7 as I was watching it... basically whenever the film tried to drama its prospective score started to drop, but then when the action kicked off it would go back up. Since there is a lot of action (you're probably never more than 15 minutes from a fight) it just about managed to retain its 7 rating. I think.
It's pretty disposable and I doubt I'll ever watch it again, but it's the sort of brash, shallow action film that would probably have been fun to watch in a cinema, back when people went outside.
Crew
| | |
| --- | --- |
| Director | |
| Action Director | |
| Writer | |
| Producer | |
| Editor | |
External Links