Scared Stiff (1987)
Directed by
Just go with the flow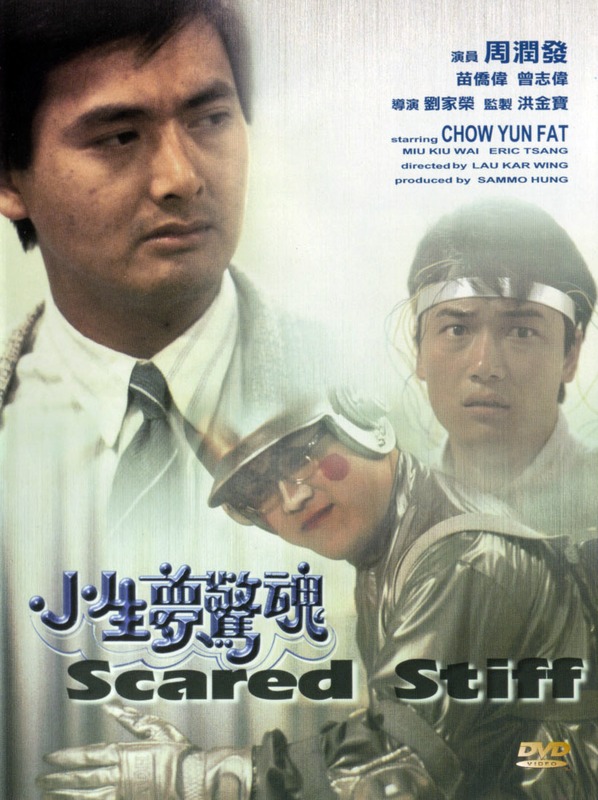 Reviewed by Simon on
2006-03-02
The Hong Kong Film Awards should really include a category for "most random" film each year. A strong contender for the title in 1987 would definitely have been SCARED STIFF. The film munges chasing girls comedy, murder-thriller and parapsychology as if the scripts to three different films had got mixed together and the producers just decided to go with it. You also get to see Wu Ma as a vampire hunter and Eric Tsang as a robot... and why not!
Note that Chow Yun-Fat is NOT the star of the film, whatever various DVD sleeves would like you to believe. Miu Kiu-Wai and Eric Tsang are the main stars, with Chow having a sizeable part in the last half of the film.
The plot... well, Miu and Eric are good buddies who share some kind of telepathic connection. Miu is a bit of lady's man and Eric wishes he was - luckily his buddy is happy to share some of his luck through some imaginative schemes. After witnessing a robbery, Miu nearly dies but Wu Fung recognises his abnormal brain waves and wants to do some research on him. Romance blossoms with research assistant Emily Chu. Meanwhile, Eric identifies one of the robbers to the police, which leads to trouble when his buddies come for revenge. Note: that's me making sense of the film, and doesn't really do the actual on-screen events justice.
The film definitely scores marks for being interesting and is pretty entertaining, though you have to be warm to the peculiar charms of HK cinema in the 80's to enjoy it - to just go with the flow and see what happens without thinking too deeply about any of it, or expecting any sort of insight into the human condition.
There's a little bit of action in the film, mostly not particularly interesting until the final act, which is very bloody and quite mad!
Crew
| | |
| --- | --- |
| Director | |
| Action Director | |
| Producer | |
| Cinematographer | |
External Links