Sympathy For Mr. Vengeance (2002)
Directed by
Well crafted and challenging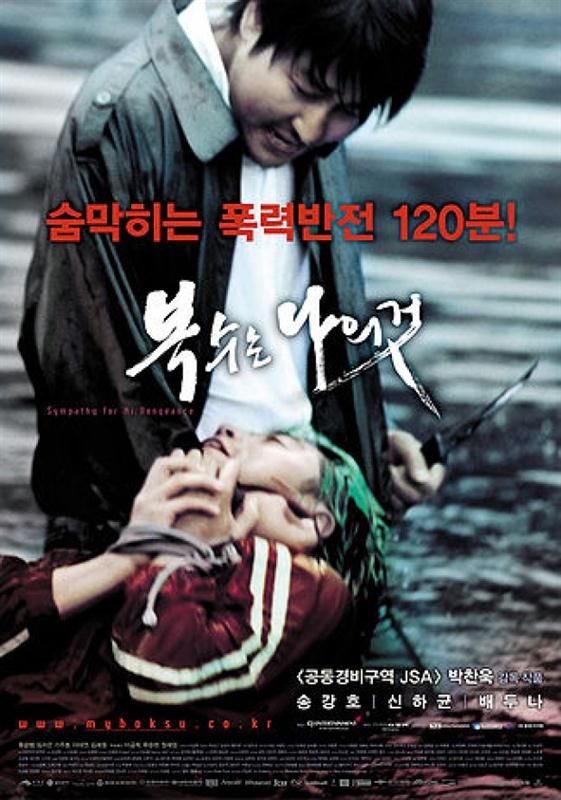 Reviewed
by Simon
on
2003-04-12
Vengeance is one of humanity's more lamentable instincts, and one we'll have to overcome as a species one day. When one acts out of vengeance one seeks only to hurt, and when people start hurting each other because they're hurt themselves, everybody ends up hurting and nobody really gains anything.
I think that's the main message Park Chan-Wook wants us to take away from Sympathy For Mr. Vengeance, though the movie is complex and oblique and doubtless open to many interpretations. It is a challenging movie in many ways - the story is never spelled out clearly, leaving the viewer to deduce many key events and motivations. Dialogue is sparse, and this is not solely attributable to the fact that the main character is deaf and dumb. The movie also challenges - almost terrorises - with its bleakness and occasional scenes of quite disturbing violence and gore.
SFMV is an ambitious project, and one that doesn't fit into any established cinematic mould. The story, characters, themes and aesthetics are all very unusual and creative. I can't think of any other film that's quite like it, though at times I likened the experience to that of watching certain Takashi Miike movies. Actually, Kim Ki-Duk's movies are probably the closest point of reference, though Park Chan-Wook's film is smarter.
Sympathy For Mr. Vengeance is not a movie I'd choose for a movie night with friends, or one that I'd lend or recommend to most of the people I know. Perhaps I'm unfair in my assessment of my friends, but I can't think of many that would enjoy it. Actually I'm surprised that the film is held in such wide regard, as its not a conventional film or an easy film, and is far more art than entertainment. In my experience that narrows a film's audience significantly, but I've yet to hear anybody express a negative reaction to the film. I guess originality and technical virtuosity are still appreciated after all - perhaps more so by those that have gravitated to Korean cinema in recent years than in other groups, since they are most often to be found there.
With JSA and SFMV, Park Chan-Wook has definitely shown himself to be one of the brightest figures in the new wave of Korean directors. Both are very well crafted in pretty much every respect. The cast of SFMV also deserve commendation for their performances, which are all good. Song Kang-Ho steals the show with a wonderfully understated performance, though.
Recommended, but make sure you know what you're getting.