Triangle (2007)
Directed by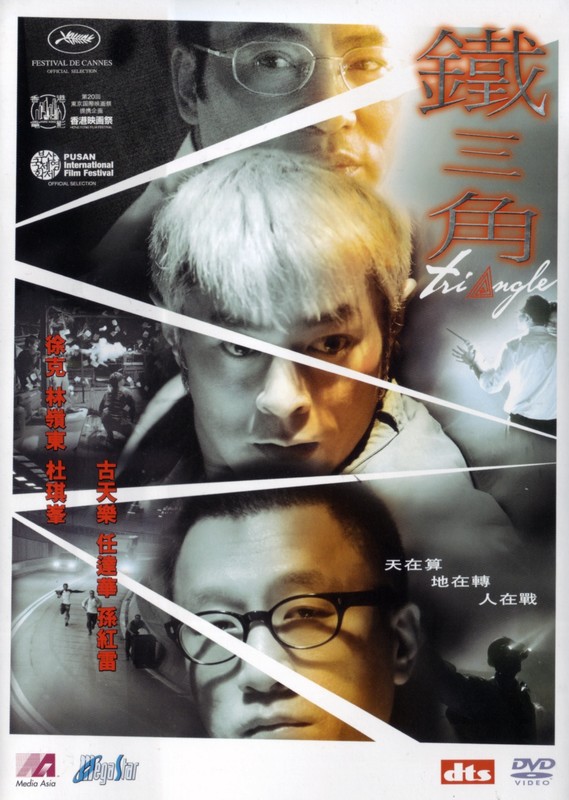 Reviewed
by Simon
on
2008-04-22
A novel idea, originating in Tsui Hark I believe, to make a film based on the old game of incremental story-telling (Exquisite Corpse), passing the baton between 3 of Hong Kong's (once) top directors (they should have swapped Johnnie To for John Woo and called it "The Victims of Jean-Claude Van-Damme Rehabilitation Project"). The result is, sadly, almost as incoherent as a nay-sayer might expect it to be.
The first third of the film (Tsui) is kind of scattershot, throwing ideas out there for the other directors to pick up on, centred around a heist movie setup with 3 main protagonists (Simon Yam, Louis Koo and Sun Hong-Lei) - setting up a triangle that clearly hints where he really wants the movie to go. This section does suffer from that amphetamine-high lack of focus that sometimes afflicts Tsui Hark when he has too many ideas for a movie, and can't decide which ones are really important.
Ringo Lam takes over just before 30 minutes in, and the mood shifts - he evidently wants to create a psychological horror instead of a crime movie, and shifts the focus more to the characters played by Kelly Lin and Gordon Lam. This part is eery and oblique, a little surreal at times but much more focused.
Then Johnnie To comes in for the final act, and decides that the film should really be... a farce! Perhaps it's his way of commenting on the baby he has been left holding. Every character that's been introduced so far is brought back into play, along with a couple of new ones (notably Lam Suet), and the plot plays itself out in an elaborate comedy of errors hinged upon a series of entirely implausible coincidences. The finale is a gun battle vaguely reminiscent of those in The Mission or Exiled, but with a more comical coating. It's a bit Shakespearean, but falls short of The Bard's wit.
The shifting of tones, and the diverting focus of the narrative, is exactly the sort of problem you'd expect a movie with three directors and three script-writing teams to have. Perhaps that was the point, and each director deliberately took the movie into their own favourite territory when they took the reins. I guess that's how it usually happens when people play the game amongst themselves, but they perhaps failed to factor in that the game is more fun for the people playing it than for somebody who simply gets handed the end result. The production process may be interesting to talk or think about, but probably makes for a less enjoyable film than a more conventional collaboration would have.
I did enjoy Ringo Lam's section though - hopefully it's a sign he's going to be doing more work in Hong Kong again!