Deewar (1975)
Directed by
Another great performance from Amitabh Bachchan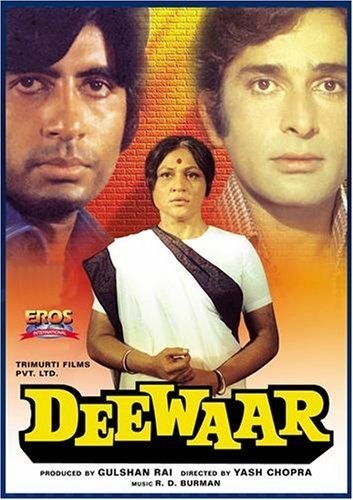 Reviewed by Simon on
2002-11-09
Amitabh Bachchan plays Vijay Verma, brother of a righteous police officer, who comes to resent society for the suffering it has brought upon his mother (and himself). After his dad abandons the family, Vijay and his Mum have to work like slaves to earn a little money to send brother Ravi to school. Ravi becomes a top student and joins the police as a top officer. Meanwhile, Vijay becomes increasingly bitter about the indignities inflicted by him & his mother because they are poor. When he gets a chance to earn some more money he can't say no, even though it involves working for a known smuggler. He quickly rises to become the smuggler's right hand man and becomes rather wealthy as a result. But Vijay's new career creates a rift with his brother that inevitably leads to conflict... but of course it's poor mum that suffers the most.
Deewar was made close to the start of the Amitabh Bachchan phenomenon, and contributed no small amount to it. His performance as the angry young man who drifts to the wrong side of the tracks is brilliant - balancing turbulent fury with his charisma and cool.
Yash Chopra and writer Salim Javed flood the movie with huge amounts of melodrama (not especially unusual in Bollywood), but take to extremes some things and scenes that would have been better left a little more subtle. The movie is quite complex and layered - something much easier to accomplish when you have 3 hours to explore and develop things, as with most Bollywood movies. The excess of melodrama becomes quite draining over such a length of time though.
Quite a good movie, but definitely not as much fun as other Amitabh/Salim Javed pairings such as Sholay, Shaan and the inimitable Don.