Don (1978)
Directed by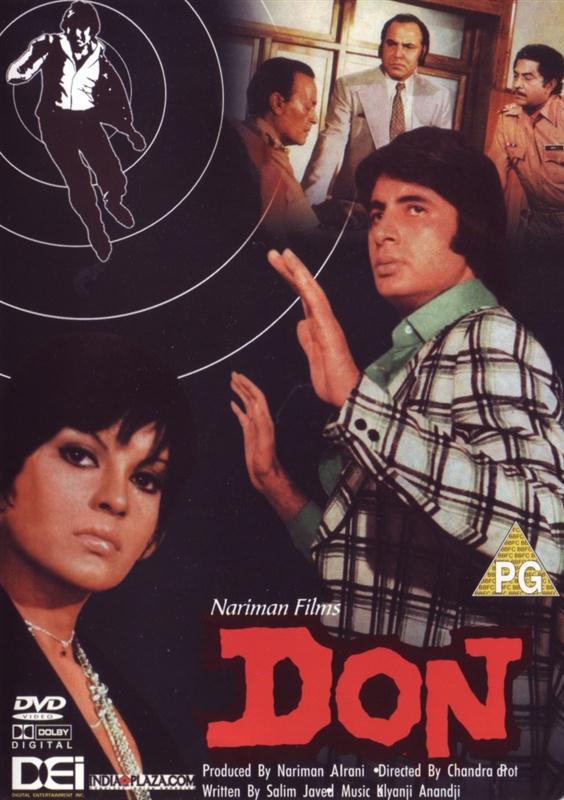 Reviewed
by Simon
on
2003-09-25
Don is a very bad boy. In an international syndicate of smugglers, Don is the meanest of them all. Mess with Don and you're dead. It's not just difficult to catch the Don... it's impossible!
Amitabh Bachchan plays Don like every cool dude rolled into one - Shaft, Dirty Harry, and err... other cool dudes! That is until he takes a bullet 30 minutes into the movie and dies. "Wait a minute - this movie is 3 hours long, and they've killed the title character already!" is bound to be your first thought at this. But it's alright, because the only man to see him die, the police 'DSP', happens to know of a man who is Don's exact double... and he has a plan. He trains up the amiable betel-nut chewing street performer in the ways of the Don, and sends him undercover to root out evidence against the rest of the gang. Here Amitabh gets to show his range - from badass cool dude to goofball to goofball pretending to be a badass cool dude, he fits the role (and those flared trousers) to a tee.
Don has clearly been made from concentrated 1970's extract... and it's cheesier than a McDonald's Cheeseburger where they forgot to give you everything but the cheese - and when you go up to the counter to complain, they just give you more cheese . But even though you know it's probably going to make you fat and give you spots, you can't help going back for more. The movie manages to straddle that fine line between inspiration and idiocy where you find the rarest of substances - pure entertainment.
This is not a movie to be taken seriously, and it could hardly be called a movie of great technical virtue. But Amitabh Bachchan takes the role(s) and gives them such a lot of character and life you can't help but love watching him. The crew of flared and paisleyed crooks and goons and the kung fu fighting revenge babe, the crippled tight rope walker and the well meaning but mostly simple police officers all make the Don's world an interesting environment to watch Amitabh at work and play too.
And then there's the zoom lenses, the toe tapping funk tunes, the chase scenes that seem to leap miles between each cut, the fight scenes that are acted out in courteous slow motion (when they're not being bounced around on trampolines)... the song and dance routine opining on the virtues of mixing opiates and stimulants... With Tears Of The Black Tiger and DON all in one weekend I feel guilty, like I've just eaten a whole triple chocolate cake in one sitting... life just shouldn't be this much fun!
If you've got 3 hours going spare, let the Don into your life too and he'll make you a happy chappy - I guarantee it!