Gozu (2003)
Directed by
Wonderful creativity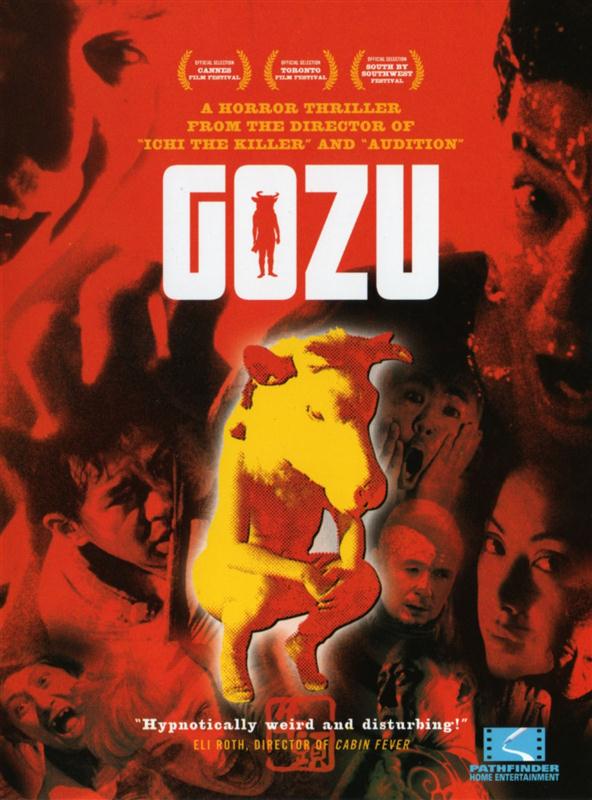 Reviewed by Simon on
2004-06-05
Takashi Miike is a very strange man - I think there's sufficient evidence of that fact that I need not justify it further. So if I tell you that GOZU is probably Miike's weirdest film to date, you will know that we are talking some world-class oddity. Billed as a "Yakuza Horror" film, which is a label that just about fits if you consider that Japanese horror films have always shown a very different sensibility than Hollywood films (Japanese horror is generally of a quite intangible nature, about the horror of the unknown and the incomprehensible - not so much about the big scary monsters). GOZU is interesting in that the "horror" of it comes almost entirely from the way it is filmed - the camera work, the editing and the sound effects all come together to create a sense of foreboding and fear that for the most part is not at all born out by the actual events in the film. Miike is probably making the point that most horror films are just exercises in film-making technique these days, rather than presenting truly frightening content. Or perhaps he just fancied a way to make his latest Yakuza film a little bit different :)
Miike is definitely one of the most creative film-makers working in the world today - quite possibly *the* most, given his insanely prolific output and the fact that almost every film he makes manages to be unique and memorable. Doing that with one film a year would be an impressive feat, and Miike gives us at least 3-4 such films every year. GOZU shows him on fine creative form once more, turning a story that probably isn't all that interesting into a surreal, dreamlike experience. The plot itself is very minimal, and largely irrelevant for most of the 125 minute running time. Basically, a Yakuza is told to take his yakuza-brother (Sho Aikawa) to an out of the way part of Japan and get rid of him, as he been showing signs of going a bit loopy. However, before he can carry out his orders, Aikawa disappears - and most of the rest of the film is concerned with Minami's efforts to find him. But that description really sells short the content of the film, which is really about the strange characters he encounters and the even stranger experiences that he has.
Going into more detail about what happens wouldn't add a lot to this review, so I won't. Just be prepared to "go with the flow" and see what the film has to offer, rather than expecting anything specific from it. Don't expect a nice neat resolution at the end, either, 'cause you'll definitely be disappointed. Miike's films are often films that need to be seen in just the right mood to be enjoyed, and I'm glad I made the decision that my mood wasn't right when I started watching GOZU 6 months ago. The film sat there waiting for me until this weekend, when I figured the time was as good as it was going to get, and it paid off in spades :)
Miike's films often suffer on repeat viewings, and I am pretty sure this will be true of GOZU - at over 2 hours it is definitely too long, and there are sure to be scenes that are a bit of a chore to sit through when you know what's coming. I couldn't say which scenes they are from a first viewing though, so there's nothing that's truly redundant in there, and I hope that the US distributors that recently acquired the film will remember that their viewers would rather make the decision themselves about any scenes that weren't needed. i.e. uncut, please!
Crew
| | |
| --- | --- |
| Director | |
| Writer | |
| Soundtrack | |
| Cinematographer | |
| Editor | |
| Assistant Director | |
See also
External Links