Usagi Drop (2011)
Directed by
Adventures in unexpected parenthood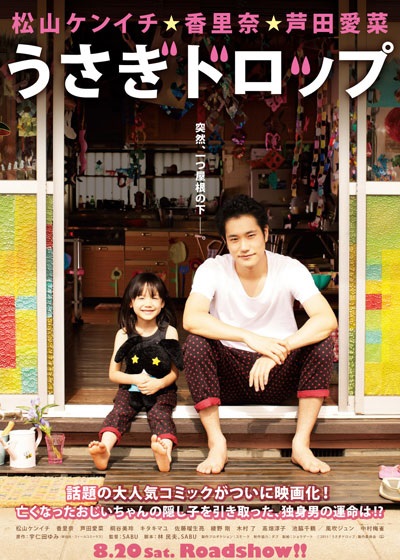 Reviewed
by Simon
on
2021-03-28
Daikichi is a young, single man with a good white collar job. When he attends his grandfather's funeral he sees a young girl hovering around and is shocked to learn that she is Grandpa's daughter from a late life fling - and that the identity and whereabouts of her mother are unknown.
The elders of the family all agree that they don't have the time or patience to take care of a young child and want to send her off to an orphanage, but Daikichi bristles at their lack of compassion and decides he is going to take care of his young aunt himself. He is of course completely unprepared for taking care of a 6 year old child, and quickly realises that it probably isn't compatible with the long hours he has to work to get ahead in his career.
USAGI DROP (Bunny Drop) is based on a Manga, and marks another change of direction for Sabu. It is by far the most sentimental film he had made at this point, and the most warm hearted. The film explores parenthood from the perspective of a young man that becomes one overnight with no preparation or planning and not much assistance, and challenges the societal expectations that a mother will give up her career and a father will be a more hands-off parent. The film also takes a mature look at bereavement.
Daikichi and Rin soon form a bond as they face and overcome the various challenges that a 6 year old girl and her nephew will encounter. It helps that she is precocious and he is a reliable and compassionate young man. It does feel a little bit like a manifesto for how to parent at times, but the two leads are so likeable that it doesn't come across as heavy handed.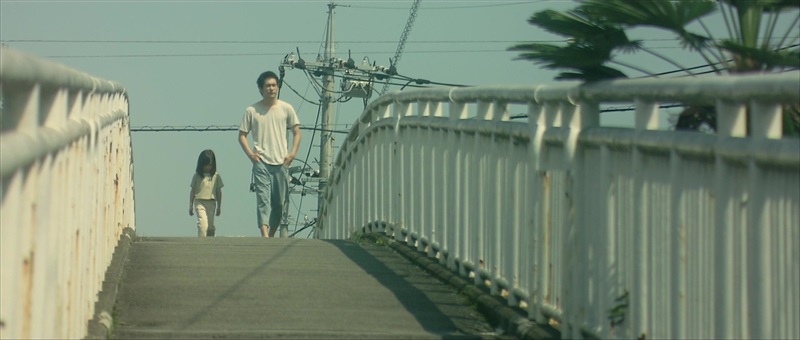 The film is a far cry from Sabu's absurdist comedies like Drive, and you wouldn't guess it was a Sabu film if nobody thought to mention it (assuming you'd seen his earlier work). Perhaps there is not so much of his personality imprinted on the film, but he directs it confidently and professionally. If you only knew Sabu from Mr. Long then you probably still wouldn't guess he was the director, but it would be less of a surprise when you found out.
The film looks good throughout, except perhaps for some hand held camera work near the start that is too conspicuous. There is a halcyon haze to the cinematography, which contributes to the sentimental feeling encouraged by the piano led soundtrack.
The film isn't ashamed of going for the heart strings, and my eyes were at least on the moist side for the last 30 minutes. There was a smile underneath the tears though, it's not a sad film and it ends on a sweet note. Apparently that is not the case with the original manga, whose ending seems to have genuinely upset people (not in a good way).
This isn't the sort of film I would seek out if it didn't have Sabu's name attached, but it's interesting to see him diversify and the result is charming and eminently watchable. Kenichi Matsuyama and Mana Ashida can take most of the credit for this, as the bond between the two of them comes to seem very genuine and heartfelt. The rest of the cast are only a background presence in the film but there are some strong contributions from them too.
Crew
| | |
| --- | --- |
| Director | |
| Writer | |
| Producer | |
| Cinematographer | |
See also
External Links