The World Sinks Except Japan (2006)
Directed by
Genre
More enjoyable than Japan sinking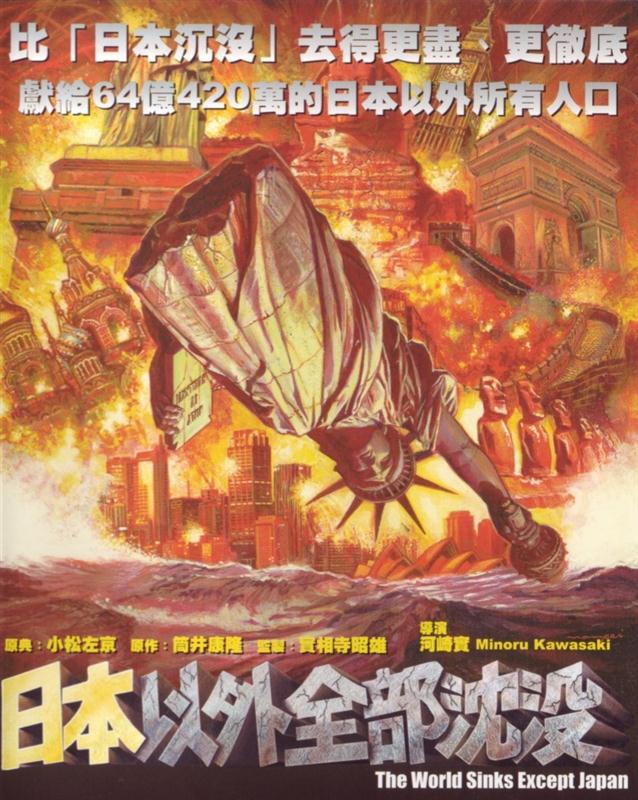 Reviewed
by Simon
on
2007-04-26
Due to rather dubious plate tectonics, every country in the world starts to sink beneath the sea... except Japan. It all happens so quickly that few survive, but the richest and most powerful in each country manage to make it to Japan to escape the watery fate of most of humanity. Politicians and movie stars that were used to being the world's elite find themselves in an entirely different situation in their new homeland, at the mercy of the generosity of their hosts - or failing that, their ability to entertain them.
THE SINKING OF JAPAN was originally a novel, released in 1973, and it spawned a satirical response in the form of a short novel called THE WORLD SINKS EXCEPT JAPAN. When it was announced that the original novel was to be made into a big-budget movie (for the second time) in 2006, the only reasonable thing for Minoru Kawasaki to do was to announce that he would make its satirical brother into a movie too... but on what must doubtless have been a fraction of the budget that could comfortably be rounded down to zero.
Whilst the rest of the world was barely mentioned in passing when Japan sank, here they are foregrounded, and the reaction of the Japanese to having to share their country with an influx of foreigners whom they now have power over is the major focus of the film. Whilst Japan Sinks revels in notions of the Japanese spirit excelling and triumphing in the face of adversity, THE WORLD SINKS has a much more realistic view of humanity (not just in Japan) - selfish, vain, petulant, unreliable, untrustworthy and xenophobic.
Whilst WORLD certainly doesn't have the budget for special effects that JAPAN did, it makes up for it by having a smart script and a sense of humour. Characters are mostly ridiculous stereotypes, and the film is cheerfully ridiculous on many occasions. The acting is mostly terrible, but that's not such a bad thing when the film isn't asking us take it seriously and have an emotional response. There are many non-Japanese cast members, and their ability with the language ranges from fluency to barely able to string a sentence together - which fits the situation of their characters.
There are no heroics to be found here, and no heart-warming message about triumph in the face of adversity, which means it's much less nauseating than the film it satirises - and generally more satisfying. It can't be claimed to be a great film because the production values are so bargain basement, but I happily give it... 7.5/10.