Matador (1986)
Directed by
Genre
I've never seen anyone so happy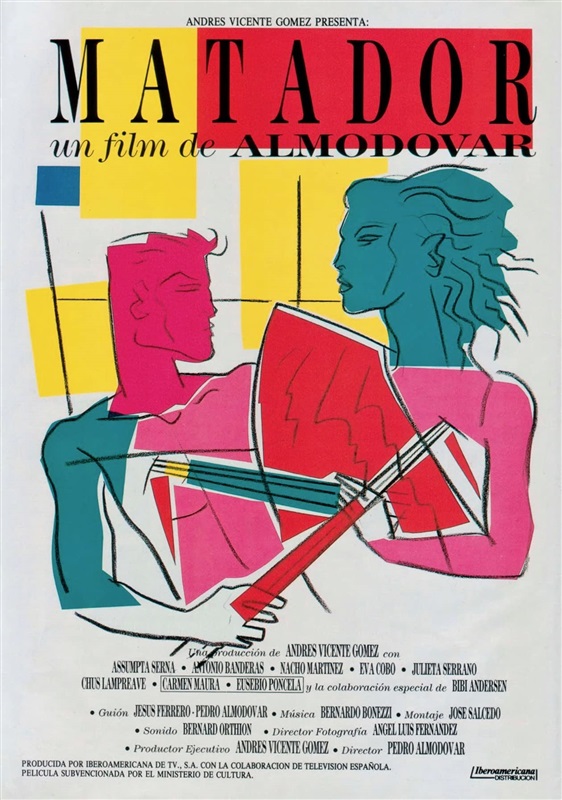 Reviewed by Simon on
2021-04-30
Diego Montes was once the premiere matador of his time, until a goring ended his career. Now he teaches students the art of bull fighting, including a young man named Angel. Angel looks up to Diego as an icon of masculinity, and after Diego questions Angel's manhood he attempts to rape his neighbour Eva, who happens to be Diego's girlfriend.
Guilt then compels Angel to turn himself in to the police and confess his rape, even though Eva would rather just forget about it and declines to press charges. Angel then confesses to a series of murders - at least one of which we know he did not commit because we watched it happen at the start of the film.
MATADOR opens with some striking sequences, we see Diego masturbating to scenes from a horror movie where women are brutally killed, then we watch one of Diego's classes intercut with a vampish woman seducing a young man and killing him as she approaches climax - her fatal blow to the spine with a sharp needle echoing the killing techniques that Diego is teaching his class.
MATADOR is a film full of parallels and reflections, presenting a series of dualities and mirror images. Sex and death are pictured as adjacent experiences, the killing of a bull or the killing of a man seen as a type of orgasm, the lust for death as strong as sexual desire. This is not done to glamorise killing or to make it seem erotic, but to show it as a perversion - a base and tawdry act that excludes the enjoyment of sex as a celebration of life.
A somewhat parallel track shows how Angel's extremely strict Catholic upbringing has affected his psyche, the constant declarations of guilt and shame from his pious mother making him feel that he is a bad person well before he's done anything to deserve it. Meanwhile Eva's professed love for Diego is shown to be the obsessive infatuation of youth, a sort of psychosis of its own.
On the surface MATADOR is the least feminist of Almodóvar's films, seemingly dismissing Angel's attempted rape as something hardly to be criticised (a female police officer comments that some girls have all the luck), but underlying everything is a criticism of toxic masculinity. Angel isn't blamed for his actions because its obvious it wasn't something he really wanted.
The final act of the film jumps the shark a bit, with a total eclipse and hitherto unrevealed psychic powers leading to an enigmatic denouement.
Crew
| | |
| --- | --- |
| Director | |
| Writer | |
| Soundtrack | |
| Cinematographer | |
| Editor | |
| Assistant Director | |
External Links