Crying Fist (2005)
Directed by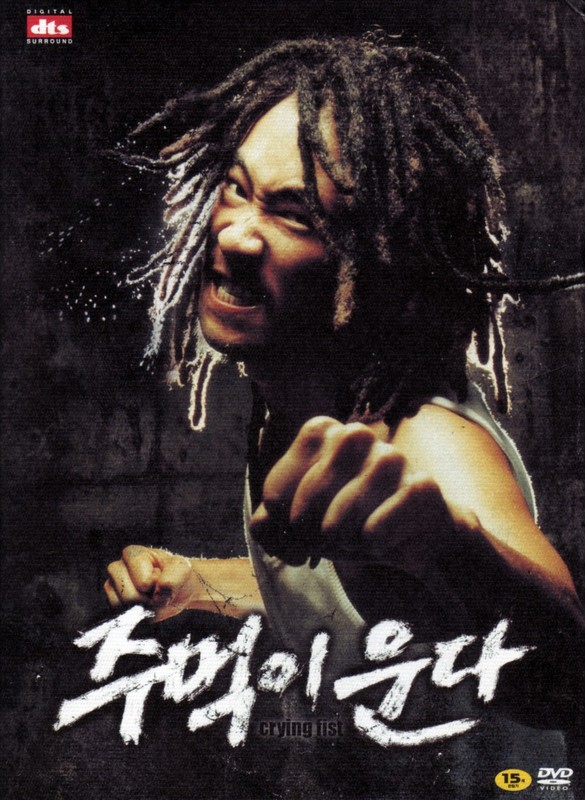 Reviewed
by Simon
on
2005-07-31
Ryu Seung-Wan is one of South Korea's more interesting directors, if only for the fact that each of his 4 feature films has been very different to the others, though all have an element of action/violence. Last year's Urban Martial Arts Fantasy Arahan was an eminently watchable commercial film that deserved a worldwide release on the scale of Kung Fu Hustle in my opinion, but was denied it. 2005's CRYING FIST is about as different as a film can be, and is much more suited to the art-house circuits than the multiplexes. We'll see if it gets even that :) Basically, CRYING FIST is a Boxing Film. One might argue that there have been entirely too many boxing films already, as the sport has always been a favourite for underdog stories - the visuals of a boxing match being particularly evocative for a tale of triumph over adversity, I guess. Since there have been so many boxing films, including some that are good to great, it's pretty easy for a new one to be dismissed as formulaic, clichéd and entirely redundant in the grand of scheme of things - because they usually are. CRYING FIST escapes this fate because it's a boxing film with a difference! It's not a big difference by any measure, but it's enough to make the film a worthwhile entry in the genre.
CRYING FIST follows too mostly independent stories, both revolving around underdogs and boxing. Choi Min-Sik is an ex-boxer who had some moderate success in his youth, but at 40 years old finds himself penniless and generally under-qualified, with his home life in such a mess that he's sleeping on the streets before the film has run too long. To try to make enough money to eat he sets up a "business" on the streets where people can pay to use him as a human punch-bag.
Ryu Seung-Bum (the director's brother) plays a young thug with a tendency to violence and anti-social behaviour that quickly lands him in prison. The prison has its own boxing team, and RYOO is encouraged to join, to channel his aggression and learn self-control, to make himself a better man and all that.
CRYING FIST presumably derives its name from the fact it's a bit depressing, and may produce a liquid response from the viewer in places. It focuses heavily on the characters, who are pretty crappy people in many respects, but hurting enough that the audience can't help feel sympathy for them, even care for them. Choi Min-Sik has already proved that he can make just about any character come to life and make the audience care for them, but it's quite a surprise that RYu Seung-Bum was able to achieve the same effect, since he was mostly annoying in ARAHAN and is generally listed as the reason people didn't like the film (wrong people, obviously). He's still not up to Choi Min-Sik's level of acting, but so few people in the world are that it's a little cruel to have to compare them.
The visual style of CRYING FIST is entirely different to that of ARAHAN, closer to No Blood No Tears but still different. The film uses a lot of rapid exposure film, creating that stroboscopic effect during fast movement and simply being left to overexpose in other scenes, meaning the visuals are generally quite intense. Colour is used sparingly, appropriate for a film that's much more gritty and downbeat than the lurid ARAHAN.
Writing and direction is top-notch, and the film generally feels very maturely and expertly directed. It does perhaps veer a little too close to cliché towards the end, particularly an extended training montage that was just too ROCKY IV to be taken seriously (a shame Ryu Seung-Wan couldn't find a newer way to show it). That misstep is pretty much the only one in the film though, with other scenes being quite inspired.
Of course there's some actual boxing in the ring in the film, and these scenes are shot very powerfully and realistically - completely opposite in style to the fights in ARAHAN. The fights are mostly filmed in extended takes which leave no doubt that the actors are doing the fighting themselves, absolutely no stunt doubles or clever editing. If it weren't for the way the camera moves around the ring and between the cameras I'd say the fights were unchoreographed, so convincing do they look. The actors must have undertaken a lot of training to learn how to box, and their stamina and resilience is a credit to them. I wasn't always sure the bloody bruises on their faces were done with makeup! Although CRYING FIST is arguably the "better" film, I didn't enjoy it is as much as ARAHAN for the simple reason that it's not as much FUN. But then it's not meant to be, and there'd be something wrong if it was. It's not as easy a watch as ARAHAN and probably doesn't have the same (potential) universal appeal, but it has much more "substance" and is likely to make a deeper impression on those who find what they're looking for in it.
So, if you're looking for a boxing film that might just make you cry, CRYING FIST comes highly recommended. At the very least it proves that the Ryu brothers deserve close attention in future, if only to see which direction they go in with their next film.