TaeGukGi (2004)
Directed by
Genre
Impressive war film from Korea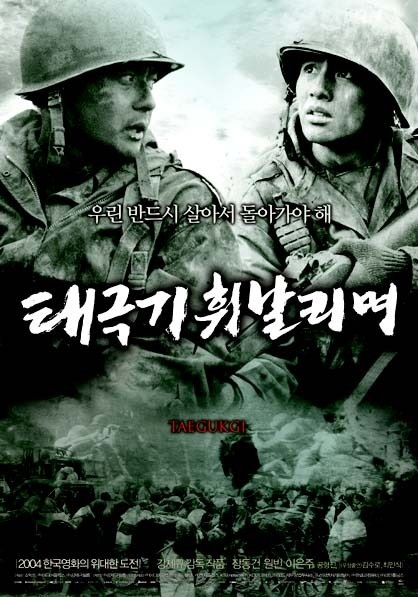 Reviewed
by Simon
on
2004-12-11
I'm not a big fan of war films, unless the war in question was at least a couple hundred years ago or somewhere in the future, or the stars - but I did enjoy SAVING PRIVATE RYAN, if "enjoy" is the best word to use for such an experience. Apparently, director Kang Je-Gyu (Shiri) enjoyed SPR too, as its influence on his Korean war film TAEGUKGI is impossible to deny. SHIRI was the South Korean film that probably did more than any other to bring the country's cinematic new wave into being, and especially into the field of view of the rest of the world at large. Its main accomplishment was, arguably, demonstrating that Korea could make a film that competed head on with Hollywood product, in terms of slick production values but also perhaps in terms of vacuous scripts Although it is rather shallow compared to other Korean films, though, I think it's safe to say that SHIRI had more depth than Hollywood would have injected into a similar story.
TAEGUKGI is his first film since SHIRI, and he's definitely playing the Hollywood game again - tackling Spielberg head on this time. Like SAVING PRIVATE RYAN, TAEGUKGI attempts to humanise war by giving us some specific characters to focus on (in this case, two prothers played by Won Bin and Jang Dong-Kun) - and then uses our personal connection to show us that war is actually a dehumanising experience. The film also spares no effort in showing us the ability of bullets, knives and bombs to turn human beings into squishy piles of gore.
There's a fairly obvious political symbolism in the story of two brothers and the effects the Korean war has on their lives and relationship - I don't know if it would be fair to read the ending as a view about the conditions under which Korean reunification might occur though. The ending of the film won't come as much of a surprise, since it's basically foretold at the start with a scene set in the present day. The exact details might be a little unexpected though.
If you like your modern-ish day war films, and specifically if you liked SAVING PRIVATE RYAN, then there's very little doubt that TaeGukGi will impress. It's big, slick and well put together. Since it's not my favourite genre or topic of interest, I can't say I loved it like a brother, but was sufficiently satisfied with it given what it is.