Magadheera (2009)
Directed by
Fun tale of reincarnated lovers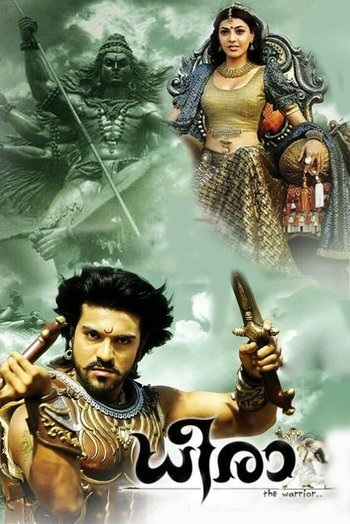 Reviewed
by Simon
on
2022-06-06
A warrior and his lover are slain, but 400 years later they reincarnate as a cocky young hustler and a beautiful student. A chance encounter sparks recollections of his past life in the boy and he becomes obsessed with finding his former love and then wooing her... but her rich and unscrupulous cousin also has his sights on her.
Ram Charan is suave, Kajal Aggarwal is a beauty, Dev Gill is monstrous, the dance sequences are banging, the comic relief is... let's not talk about the comic relief. MAGADHEERA is definitely at its best in the "400 years previously" flashback(s), perhaps because it looks more lavish... or because it steers clear of comedy there.
Ram Charan seems very comfortable on the screen in what was only his second film, having inherited his father's swagger - a surreal dance-off early in the film sees dad digitally teleported in from 1992 film GHARANA MOGUDU, only to get decisively one-upped by his son.
The musical numbers from M.M. Keeravani are a joy, except perhaps the one that starts the final act - not because the song is bad, but because it seems misplaced. The musical number in the end credits with the crew is really sweet though.
MAGADHEERA is clearly a step down from RRR or BAAHUBALI, having neither the polish or the focus of those splendid epics. You can see the ideas percolating that would grow into those films but at this stage they're rough cut - especially the head spinning developments of the last half hour.
There are moments of greatness throughout though, the film looks good even with the comparatively low CGI budget, and Rajamouli's eye for shooting action is already keen.
Crew
| | |
| --- | --- |
| Director | |
| Writer | |
| Soundtrack | |
| Cinematographer | |
| Editor | |
External Links