La Comunidad (2000)
Directed by
A horror movie about ordinary people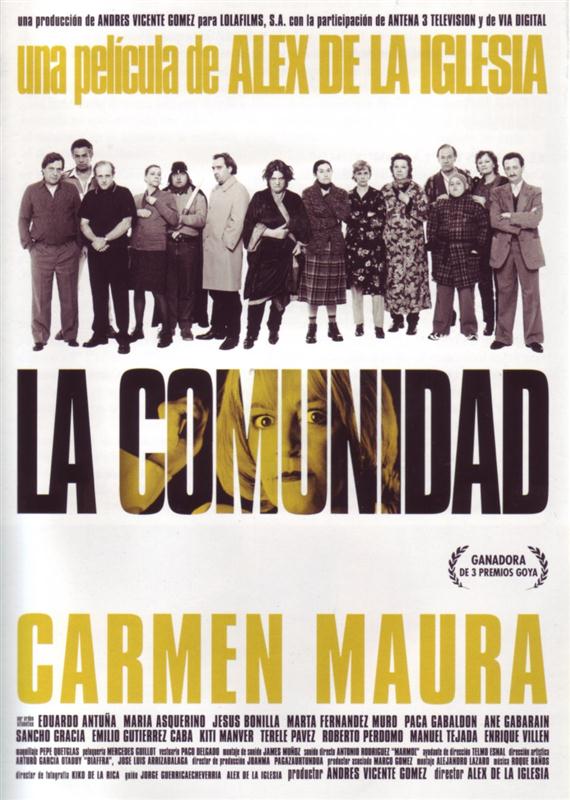 Reviewed by Simon on
2003-06-07
Alex De La Iglesia is one of a triumvirate of Spanish directors whose deliciously black comedies have found a sizeable audience outside of Spain (the other two being Bigas Luna and the master Pedro Almodovar). Iglesia's debut ACCIONE MUTANTE was a wonderfully perverse low budget sci-fi parody, but it was his super-dark horror comedy THE DAY OF THE BEAST that first brought him international recognition, and a brief and unlikely stab at Hollywood with the entertaining Perdita Durango.
LA COMUNIDAD shows that Iglesia has matured a *lot* as a film maker, and feels much slicker and more accomplished than his earlier films. Carmen Maura (Spain's finest actress) plays an estate agent with a gift for telling lies, who discovers a stash of money in an appartment she has to show to some clients. She thinks this is what her life has been waiting for, but she doesn't count on THE COMMUNITY that inhabits the appartment building.
LA COMUNIDAD is a wonderful thing - a horror movie about ordinary people. Forget mutants, satanists or the devil himself - none of these are as scary as the guy next door! Iglesia brings out the darkest side of our human nature, bringing out delicious black comedy, horror and thriller elements without the need to invoke anything supernatural or fantastical.
Iglesia's direction is assured - helped no doubt by having a veteren like Maura in the lead role. The pacing of the film is spot on, and the atmosphere and tension is built to great effect. The film is creepy, crazy and builds to real edge of the seat tension. The characters are all wonderful, and the cast give great performances. A great piece of work!
See also
External Links