Blue Spring (2001)
Directed by
Genre
Beautiful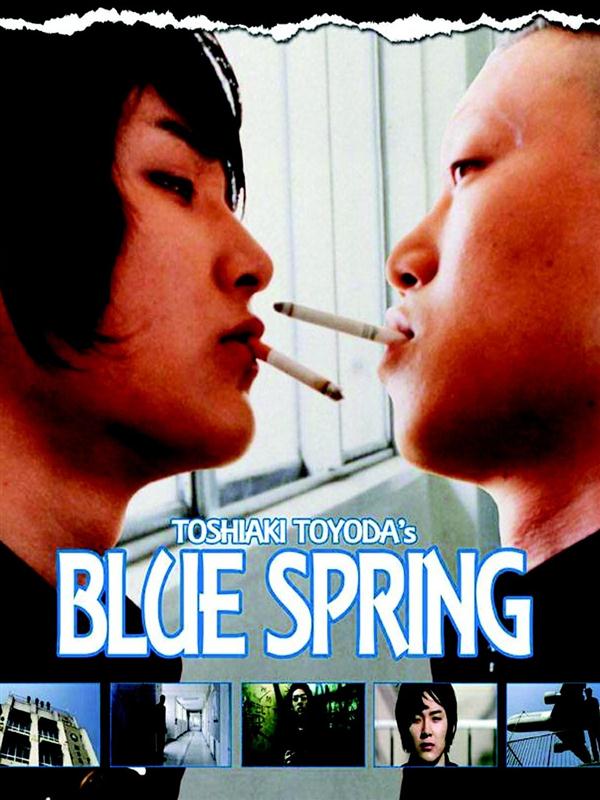 Reviewed by Simon on
2002-03-17
The closing night movie for the SF Indie Fest is a vaguely coming of age type drama, set entirely within the grounds of a Japanese boy's school. Here, the kids all run around in gangs, sleep in lectures and fight at break times. Every wall in the place is covered in graffiti. Ryuhei Matsuda (the effeminate guy from Gohatto) stars as Kuja, a senior who becomes the school's official gang leader by winning at "The Clapping Game". This game involves the kids hanging from a railing on the edge of the school roof, letting go and seeing how many times they can clap their hands before their nerve fails and they grab back on.
From here we follow the progress of his friends and enemies throughout a part of the school year, the challenges to his leadership and the pressure of the school system felt by everyone. There's a hell of a lot of violence goes on in the school, and we get the impression that life as a Japanese school boy is a difficult, dangerous business.
It's a pretty bleak and cheerless vision - between this and Battle Royale you'd be forgiven for thinking that the Japanese school system was on the point of explosion or collapse, with the youth as disaffected as they come. How close this is to reality I don't know, but the friend I saw it with tells me that the classroom scenes are pretty close to how it actually is.
The cast all perform well - Ryuhei Matsuda has such a striking appearance that he doesn't really need to do anything to create an impression, and indeed he spends most of the movie being aloof and impenetrable. This contrasts with the energies and frustrations evident in the other characters, particulary his best friend Aoki.
I enjoyed the movie a lot... good characters, and well filmed/scored, with interesting developments. It's based on a collection of autobiographical short stories from a manga artist, which shows a little bit in the episodic nature of the plot, but it's all weaved together well for the movie. Worth looking out for if you don't mind your high school movies nihilistic, violent and bleak.
Crew
| | |
| --- | --- |
| Director | |
| Writer | |
| Producer | |
| Cinematographer | |
| Art Director | |
External Links