Dobermann (1997)
Directed by
Genre
Best 'live action comic book' ever made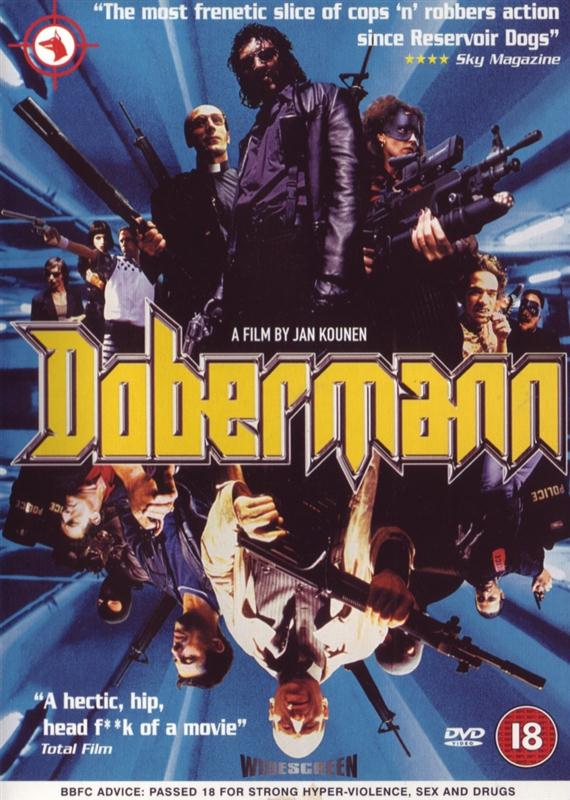 Reviewed
by Simon
on
2002-03-17
Dobermann is one of the best 'live action comic books' ever made, IMO. The characters, the cinematography, the dialogue and the violence all have the comic book 'feel' - ultra-stylised and larger than life, and full of very black humour.
The movie is basically a heist movie, with Dobermann himself (Vincent Cassel) and his band of unlikely partners plotting a robbery, and pulling it off... but getting bad-ass cop Cristini (Tchéky Karyo) on their tale for their troubles.
The movie is exceptionally well done - clearly a lot of love went into it from director Jan Kounen and from the cast. Some of the camera work is utterly unique and stunning, and the performances all round are excellent. Tchéky Karyo is particularly memorable - his role in Kiss Of The Dragon was basically his DOBERMANN character watered down to about 1%. Dobermann himself is perhaps the least well developed character, remaining pretty detached and enigmatic throughout.
There's lots of sharp dialogue and bits of absurdity that will obviously draw comparisons to Tarantino. This all leads to some action setpieces that are very very nicely done, including a stunning and extended climax.
This is the 3rd time I've watched the movie, and I enjoy it more each time. Watched it at work last night with a pretty large group, and couldn't help wondering if it was a movie that showed cultural differences between the US and Europe. The Europeans & even a Canadian in the room were sat grinning from ear to ear from start to finish, all loving it... but the Americans in the room just didn't seem to 'get it' at all. They all seemed to be taking it much too seriously, and struggling terribly with the idea of an "anti-hero". The fact that Dobermann has killed an innocent man before he speaks his first line of dialogue seemed to give them trouble. Perhaps this is a European thing, along with the black humour. The difference in response between the Americans and the rest really was noticable.
But, perhaps it's just a coincidence - and some people from any country are always going to miss the point on these things. If you like your heroes dirty, your characters about 3 times larger than life, your camera restless, your dialogue cynical and vicious and your violence explosive... then Dobermann is a wonderful movie you should definitely track down.
Crew
| | |
| --- | --- |
| Director | |
| Writer | |
| Editor | |
| Cinematographer | |
| Soundtrack | |
See also
External Links