Vulgaria (2012)
Directed by
A film about film, and language, and food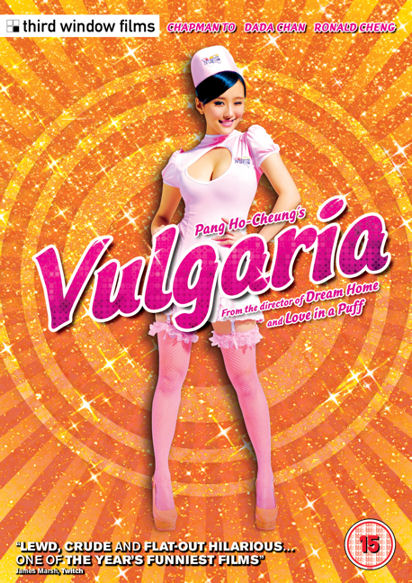 Reviewed by Simon on
2013-08-07
A movie producer (Chapman To) appears as a guest speaker at a university, to tell the students about the roles and responsibilities of a producer. He does so by relating a series of anecdotes about the production of his latest film, from concept to premiere.
VULGARIA is sometimes billed as a comedy about Cantonese slang, which is true in part - there are certainly parts of the film where the Cantonese language is the subject, and where it is used for comedic effect (probably many more than I realised). It's also a film about Cantonese culture though, and more than that a film about the Hong Kong film industry. It shares much with Derek Yee's subtly superb VIVA EROTICA, in using a film within a film to tell a heartfelt story about an industry and an audience.
Chapman To's triad-financed category III film is clearly misconceived from the start, but is great subject matter for the meta-film that is built around it. VULGARIA announces to audiences at the very start that it intends to be crude, crass and broadly offensive - and that it's entirely your problem if that bothers you. It takes some highly amusing turns into absurd territory, but there is a strong current of honesty and humanity that makes it all quite sentimental, behind the vulgarity.
Most of the cast get comedic appearances, with a cameo from Shaw Brothers starlet Shaw Yin-Yin being particularly appreciated, whilst most of the proper acting falls to Chapman To and Dada Chan, playing characters who are pretty much the bottom feeders of the movie industry, but who endure much shame and humiliation to eventually come out on top.
Chapman To was much despised when he first appeared on the Hong Kong movie scene, but he earnt his chops the traditional way - never saying no to a role - and eventually carved out a niche for himself where he can take on roles that actually suit him, and he can be effective... I doubt if his name in the credits instills dread in many viewers anymore. He's very well suited to his role here. Dada Chan is a new face to me, an actress who probably could coast by on looks but here shows a certain commitment to developing an actual acting career. I couldn't help thinking that Francis Ng would have been perfect in the role of BROTHER TYRANNOSAURUS, but Ronald Cheng does his best Francis impression, and pulls off the film's most absurd character without much room for complaint.
Of course it is director Edmond Pang Ho-Cheung whose name drew me to the film though - responsible for two of the funniest Hong Kong films of all time (Men Suddenly in Black and AV (Adult Video)). It's good to see him back on form after a couple of misfires. His love of Hong Kong and Hong Kong Cinema is unquestionable, and it's great to see somebody doing what he loves - happily with rather more success than his characters here, unless there's a back story to his real life I don't know of!
It's not Pang's funniest or best film, but certainly one that's worth a watch - whatever the Hong Kong Critic's society might think!
Crew
| | |
| --- | --- |
| Director | |
| Writer | |
| Producer | |
| Editor | |
See also
External Links