Last Letter (2018)
Directed by
Another gem from Shunji Iwai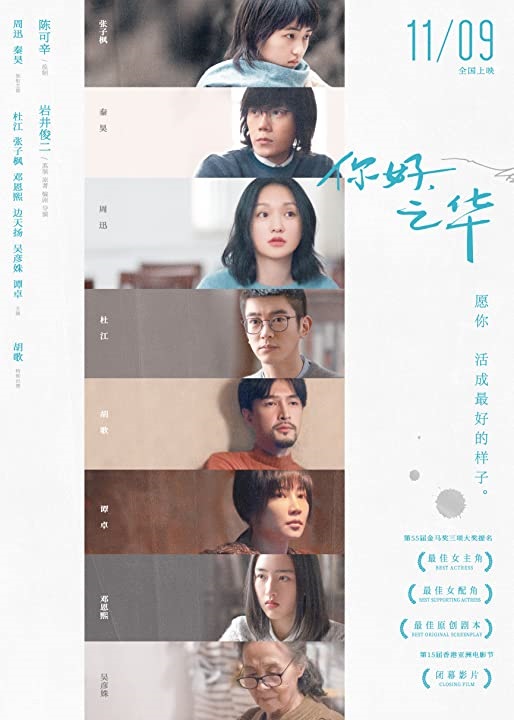 Reviewed
by Simon
on
2021-05-30
An invitation to a 30th anniversary class reunion arrives for Yuan Zhinan on the day of her funeral, so her sister Zhihua decides to attend to tell them about her death, but is mistaken for Zhinan and is too embarrassed to correct people. A classmate takes her contact details and later sends a text saying he's been in love with her for 30 years. After a fight with her husband, Zhihua decides to write him a letter using her sister's name.
Zhinan leaves behind two young children. The youngest, a boy, goes to stay with Zhihua over the holidays, whilst Zhihua's daughter stays to keep her niece company in their grandmother's home.
LAST LETTER is very much a spiritual sequel to Shunji Iwai's 1995 masterpiece Love Letter, beginning as that film does with a bereavement and a letter to the deceased that is answered by someone who knew them in childhood. It tells quite a different story from there, but evokes a similar mood. Both weave together a present day timeline and a story of childhood, with young actresses Zhang Zifeng and Deng Enxi playing their own mothers in their youth here. The film explores the idea of paths not taken and regret, but also of coming to terms with the past and passing on the lessons learned to the next generation, hopefully giving them a good start in life.
Shunji Iwai chose to make this film, adapted from his own novel, in China, for reasons I am not privy to. Two years later he remade the film in Japan, or at least another adaptation of the same novel, leading me to wonder if he was unhappy with how it turned out. I can't imagine how that could be the case now that I've seen it, as the Chinese cast are perfect in their roles, without exception.
Zhang Zifeng and Deng Enxi carry much of the film on their backs, and each is entirely convincing in their dual roles. It's hard not to compare their performances to those in the excellent Hana and Alice, and they do not come off badly from the comparison at all. The language barrier doesn't seem to have been a problem for the cast and their director at all. Zhou Xun does some heavy lifting as well and was a great choice for the role.
The film's features an aesthetic that is now a familiar feature of Iwai's films, much the same as that of A Bride For Rip Van Winkle for instance. The piano led soundtrack was co-composed by Iwai and has a familiar sound but is more understated than his score for HANA AND ALICE.
The rich characterisation, superb performances and a story which paces out its surprises well all make this another gem from Shunji Iwai, perhaps not quite as stunning as LOVE LETTER was in its day but able to stand proud in his filmography none the less. I'm really curious to see how the Japanese version compares, whether it is just the same story in Japanese or whether the novel had other stories to tell.
Crew
| | |
| --- | --- |
| Director | |
| Writer | |
| Producer | |
| Soundtrack | |
| Cinematographer | |
| Editor | |
External Links