Satorare (2001)
Directed by
Genre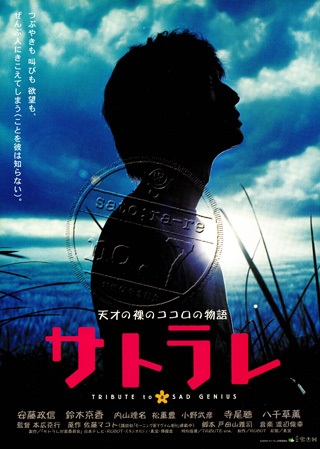 Reviewed
by Simon
on
2003-02-06
Satorare has an interesting concept, about the lives of "Transparents" - people who telepathically broadcast their every thought to anybody in a 10m radius. It's just let down horribly by a really poorly thought out script that completely fails to capitalise on the potential, and some bad acting.
Because having everybody know your inner thoughts would be terminally embarrassing, Japanese society passes a law that Transparents must never be told of their affliction. They're moved into special cities where everybody is instructed to act as if the person is totally normal... it's worth going to such lengths because Transparents invariably have massive IQs and have produced many useful things for society (allegedly). The result is a Truman Show-esque situation where everybody around Transparent Masanobu Ando has to act completely normally (which is harder than acting completely strange, I imagine).
A psychiatrist is sent into the city to observe Masanobu Ando and attempt to divert his attentions away from surgery (his desired career) to a more socially beneficial career in research. She learns how hard life is for him, and for some reason falls in love with him.
The movie fails most notably because the writer doesn't seem to have spent much time thinking through the situation. It's all completely implausible, and worse: predictable and dull. The situations that arise have very little depth or subtlety, and the resolutions are unbelievable and uninspired.
The romance subplot is contrived and cliched, though it is a very unusual case where a younger man falls for an older woman (rare in movies anyway, if not in life).
The acting in the movie is mostly pretty awful too. Masanobu Ando is really good in Adrenaline Drive, so I have to blame the director for getting such a cheesy performance out of him and everybody else. Strange though, as the movie Space Travellers from the same director is really interesting and well made.
The movie tries to show some psychological insight into the human condition, but fails to produce any worthwhile observations. In particular, it's remarked that the condition of Transparency gives a psychiatrist (and the viewer) an unparalleled look into the workings of another human's mind. Unfortunately, the thoughts that pass through Masanobu's head are trite, boring and utterly lacking profundity. Maybe that's how peoples thoughts are most of the time in the real world, but this guy is meant to be a genius with great insight. Well, you wouldn't guess it from anything he says, thinks or does.
Is the movie totally worthless, then? Well... yes, basically. I can't think of any good reason to see it :)