Aberdeen (2014)
Directed by
10/10 - Quietly, gently, beautifully devastating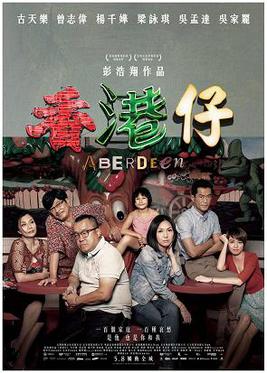 Reviewed by Simon on
2020-02-22
ABERDEEN follows a few days in the life of three generations of one family, along with their assorted lovers and friends. Louis Koo and Miriam Yeung play siblings, Koo being a successful motivational speaker and life coach whilst Yeung is a somewhat less successful tour guide. Ng Man-Tat plays their father, a Taoist priest, and a young girl plays their daughter... a young girl.
Whilst Koo's career is going well, that of his model wife (Gigi Leung) is on the decline, as increasing age inevitably leads to declining demand in a career in which she was once a top name. Miriam Yeung has not really done much with her life, and her obstetrician husband Eric Tsang is fooling around with his young assistant so perhaps not giving her his full attention as a result. Meanwhile, their father is making the most of his autumn years by having a fun, carefree affair with an aging karoake bar hostess (Carrie Ng) and not giving a damn what people think about it. The daughter - Chloe to her mother and Piggy to her father - is just beginning to grow up and learn about the world, such as the fact that her father is worried that because she is not attractive like her parents she is going to have a tough time in life, and should probably come to terms with this sooner rather than later.
ABERDEEN is essentially a mediation on aging, and the journey we take on the path from birth to inevitable death - a journey we might not even notice we're on until we realise how much of it has already passed us by. It is a subtle and understated film, exploring its themes through the incidental moments, chance encounters and off-hand remarks that shape our perceptions, and ultimately our characters. It's about the wounds we can inflict on those we love and those we barely notice. It's also, ultimately, about the bonds we form and the strength they can provide. It's a film that can cut with brutal honesty and scalpel precision, but also a film that is full of love and something at least resembling hope.
Pang Ho-Cheung is a Hong Kong film maker, in an age when that's not something you can really say about too many directors - his films always have a lot of local character, and ABERDEEN is no exception. Hong Kong is at the heart of the film, and you probably need to be at least a little familiar with the city and its cinema to fully appreciate the film. The characters' stories take on more weight when you realise how well the cast have been chosen to fill the roles - and perhaps vice-versa. I guess it also helps to know that Aberdeen is a district in Hong Kong, and not, in this case, a Scottish port.
Whilst Pang made his name with a series of crude but smart comedies, he has since proven himself to be a very versatile director. ABERDEEN is a strikingly mature and confident film, beautifully filmed and directed and managing some complex, weighty themes with a very delicate touch. The occasional moments of surrealism that intrude into the otherwise profoundly mundane lives of the characters are a true master's stroke.
The acting is almost uniformly superb, probably because the cast know all too well what life is like for these characters. The little girl is the one exception, but I guess we have to cut her some slack for her age. Cinematography is exceptional throughout - it's almost unnecessary with a film as understated as this, but is welcome none the less.
I have definitely drifted apart from Hong Kong cinema over the past decade, which is probably why it's taken me 6 years to get around to watching this film even though I consider Pang Ho-Cheung to be easily one of the most interesting directors working in Hong Kong in the 21st century. As such I can't really claim to be an expert on the subject these days, but I am not aware of a better film to emerge from the territory in the past 10 years.
Inhale. Hold your breath. Exhale.
Crew
| | |
| --- | --- |
| Director | |
| Writer | |
| Producer | |
| Editor | |
| Soundtrack | |
Notes
See also
External Links