Chicken a la Queen (1990)
Directed by
Genre
Brutal and depressing, but... good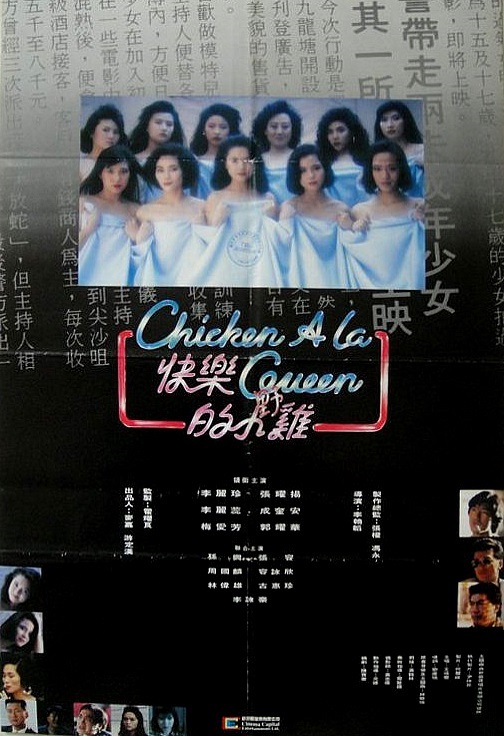 Reviewed by Simon on
2006-06-23
Loletta Lee and Sarah Lee started off as part of Cinema City's "Happy Girl Troupe", starring in a number of feel-good comedies as perky and attractive teenage girls. CHICKEN A LA QUEEN is definitely not a "Happy Girls" film - it's a rough, violent and cynical tale of teenage prostitutes and their triad pimps, depicting a life of misery and thuggery with the only light on the horizon being the possibility of forging some strong friendships.
Sarah Lee plays PS, who is allegedly deaf - although the film-makers only seem to remember this when it affects some plot point, which is much less often than the occasions when she blatantly hears and reacts to people/events she can't see. Loletta plays PK, her best buddy and girlfriend of "good pimp" Roy Cheung. Unfortunately, Sarah owes money to another pimp, who is definitely not a "good" one.
The girls seem largely resigned to their life as sex toys (as long as the client isn't black, apparently), but aren't too happy about being beaten up and abused - which, unfortunately, they are throughout most of the film. It's a tough life they lead, and the film doesn't hold back in showing it.
Shing Fui-On puts in a good turn as a cop who is struggling to raise a kid without his mum, and (sort of) wants to help the girls out and put the bad pimp behind bars. His life isn't too rosy either, as it turns out. In fact, based on this film, nobody in Hong Kong is having a good time of it - I think we can safely bet that it's never going to be used by the tourism board to promote the city!
If you're looking for light, fluffy entertainment then look elsewhere... seriously... but if you're looking for violence and depression, atmospherically shot (the filter-heavy cinematography is excellent), this film certainly delivers.
Crew
| | |
| --- | --- |
| Director | |
| Action Director | |
| Producer | |
External Links