My Sassy Girl (2001)
Directed by
10/10 - The most romantic movie of all time?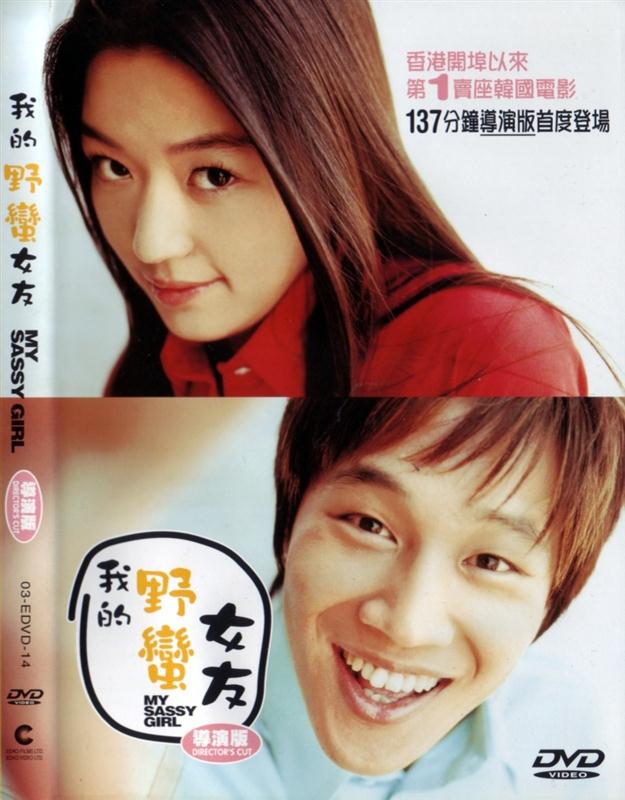 Reviewed by Simon on
2020-06-19
On his way home from drinks with his mates, Gyun-Woo (Cha Tae-Hyun) saves a drunken girl from falling onto the train tracks. Onboard the train she causes some trouble then passes out, and since the other passengers all assume Gyun-Woo is her boyfriend he ends up responsible for her, paying for a motel room to dump her in.
This is his first encounter with The Sassy Girl (Jeon Ji-Hyun), who is never named in the film, but it won't be the last. At first Gyun-Woo thinks that when she's not drunk she might be just his type, but he quickly discovers that even without alcohol in her system she can be belligerent, erratic, demanding and unpredictably violent.
The two couldn't be more different - Gyun-Woo is a timid soul, passive but considerate, whilst The Girl is crude, boisterous and prone to outrageous demands backed with her catch phrase of "Do you want to die?".
But we all know that opposites attract and the path to true love never runs smooth, so we all know how this romantic comedy is going to play out ... right?
Maybe not so much.
Allegedly based around a serious of forum posts on the internet, the film skilfully weaves together laugh out loud physical comedy with some genuinely heart wrenching narrative twists into what may be the only genuinely romantic film ever produced.
From its inverted gender norms to its interludes of in-world fiction, Kwak Jae-Young avoids the predictable cliches that have been worn thin by many a romantic comedy, delivering a film that really seeks to examine what it means to love, what it means to be a couple, and to what extent those things are the same. You can't help but be swept up in the characters lives, and to feel like you've lived them. If you're not in love with at least one of Cha Tae-Hyun or Jeon Ji-Hyun by the end of the film you're probably not human.
At the core of the film are the wonderful performances by the two leads, with Cha Tae-Hyun being kooky and adorable with a gift for physical comedy and Jeon Ji-Hyun being nothing short of a force of nature. The Girl is one of the most interesting characters in cinema, and her embodiment of it is pitch perfect across the full range the script requires from her.
It's hard to overestimate the impact MY SASSY GIRL had when it came out in 2001. South Korean cinema was already becoming the new hotness, but MSG probably did more than any other film to break Korean comedy on to the international scene, introducing many of us to the unique pleasures of an angry Korean girl threatening to do violence to us in probably the best possible way. The world expected big things of director Kwak Jae-Young and the two stars.
We had to wait two years for Kwak's follow up, which turned out to be THE CLASSIC ... a weepy melodrama that's a fine film but the absolute antithesis of MY SASSY GIRL, adhering firmly to convention in content and style. A year later Kwak reunited with Jeon Ji-Hyun for Windstruck, which is maybe sort of a prequel to MY SASSY GIRL, but doesn't have the same energy. After that he made a few films that were minor successes and then seems to have disappeared for most of a decade.
Cha Tae-Hyun has made quite a few films since, but nothing that was similarly successful ... looking at his filmography there's only a few films I even recognise - though I note that he seems to have returned to the Gyun-Woo character in 2016's MY NEW SASSY GIRL, but nobody else from the original appears to have been involved with it.
Jeon Ji-Hyun's star-making performance should really have been the start of a wonderful career, but she was courted by Hollywood, where she was as stereotyped and under utilised as most Asian stars who find themselves there. After returning to Korea she only made a few more films before apparently moving into television.

It's not an exaggeration to say that MY SASSY GIRL is as close to a perfect film as any I've seen. Perhaps it was just one of those rare confluences of the right people coming together at the right time that made MY SASSY GIRL such a remarkable film - the proverbial lightning in a bottle.
Crew
| | |
| --- | --- |
| Director | |
| Writer | |
| Cinematographer | |
See also
External Links